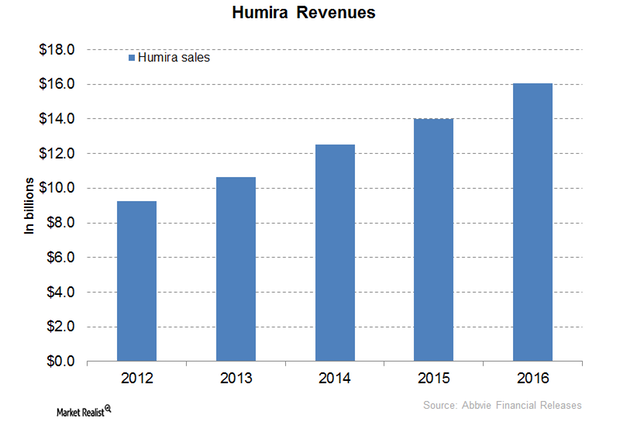 Humira May Continue to Drive AbbVie's Revenue Growth
Humira's revenue trend
In 2016, AbbVie's (ABBV) drug Humira reported revenue of ~$16.0 billion, which reflected a ~15% year-over-year (or YoY) rise. Humira is AbbVie's top-selling drug, and it accounted for ~63% of the company's total revenue.
In 1Q17, Humira generated revenue of ~$4.1 billion, a rise of ~9.7% YoY. The high demand for the drug in the US market has been the key driver of its sales growth. In the United States in 1Q17, the drug witnessed a 12% YoY rise in prescription volume. The company expects its drug sales volumes to see consistent growth in 2017.
The above graph represents Humira's revenue curve from 2012 to 2016. To know more about Humira's revenue statistics, read Humira Witnessed Solid Revenue Growth in 4Q16.
Article continues below advertisement
About Humira
Humira (adalimumab) has received approval for the treatment of rheumatoid arthritis, juvenile idiopathic arthritis, psoriatic arthritis, ulcerative colitis, ankylosing spondylitis, Crohn's disease, and plaque psoriasis, hidradenitis suppurative, and uveitis. The drug is the most prescribed biologic globally.
Humira is a market leader in multiple therapeutic areas, including rheumatology, treatment-naïve Crohn's disease, and ulcerative colitis. Humira witnessed a high adoption rate for the treatment of hidradenitis suppurative. Even in the dermatology segment, especially for the treatment of psoriasis, Humira remains the market leader.
AbbVie is carrying out various clinical trials for a label expansion of Humira. In March 2017, Humira received FDA approval to include moderate to severe fingernail psoriasis data in the prescribing information for the treatment of patients with plaque psoriasis. Humira's success may be good for the Vanguard Growth ETF (VUG). AbbVie makes up ~1.0% of VUG's total portfolio holdings.
Amgen's (AMGN) adalimumab biosimilar, Amgevita, has received European Medical Agency (or EMA) approval and may give Humira tough competition in European markets. The drug faces competition from Amgen's Enbrel, Pfizer's (PFE) Celebrex, and Johnson & Johnson's (JNJ) Remicade.
In the next article, we'll discuss AbbVie's kinase inhibitor, Imbruvica, in detail.