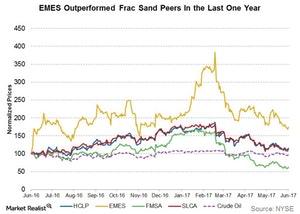 What's ahead for Frac Sand Producers?
Stocks have fallen YTD
Frac sand producers Emerge Energy Services (EMES) and Hi-Crush Partners (HCLP) rose nearly 44% and 16%, respectively, over the last 12-month period. Since the beginning of 2017, Hi-Crush Partners has fallen 33%, while Emerge Energy Services has fallen 13%. The stocks followed crude oil prices, which have fallen 12% YTD (year-to-date).
Fairmount Santrol Holdings (FMSA) has fallen 59% YTD, while U.S. Silica Holdings (SLCA) has fallen 33% during the same period. In comparison, the SPDR S&P 500 ETF (SPY) (SPX-INDEX) has risen 9% YTD. In this series, we'll discuss Emerge Energy Services and Hi-Crush Partners' recent operational performance. We'll also discuss the key factors that might drive the stocks in the future.
Article continues below advertisement
Article continues below advertisement
Crude oil prices
The above graph compares the stock performance of Fairmount Santrol Holdings, U.S. Silica Holdings, Hi-Crush Partners, and Emerge Energy Services during the past year.
Hi-Crush Partners is an integrated producer, transporter, marketer, and distributor of high-quality monocrystalline sand—a specialized mineral that is used as a proppant to enhance the recovery rates of hydrocarbons from oil and natural gas wells.
Emerge Energy Services mines, produces, and distributes silica sand. Silica sand is a key input for oil and gas wells' hydraulic fracturing.
Since the demand for frac sand directly depends on drilling activity, frac sand stocks tend to have a high correlation with crude oil prices.