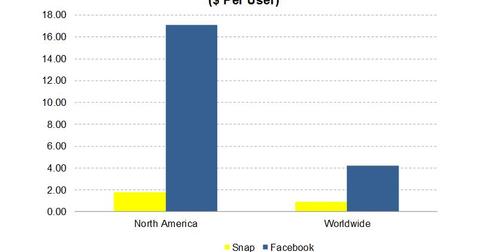 Facebook and Snap: How Their Average Revenues per User Compare
By Neha Gupta

Updated
Snapchat has 166 million daily users
Forget about numbers of active users because Facebook (FB) and Snap (SNAP) are worlds apart on that front. Facebook's daily user base of 1.3 billion in 1Q17 significantly dwarfs Snapchat's 166.0 million daily users in the same period.
While the daily user bases of Facebook and Snap are clearly incomparable, how do the companies compare in terms of the value they draw from each of their subscribers? Are they still worlds apart? You be the judge.
Article continues below advertisement
$1.81 versus $17.10 in ARPU
In North America, Snap's ARPU (average revenue per user) came to $1.81 in 1Q17, up from $0.67 in the corresponding quarter last year. Globally, each Snap subscriber contributed $0.90 to the top line in the latest quarter compared to $0.32 a year ago. In contrast, Facebook earned $17.1 in revenue from each of its users in North America and $4.23 from each of its worldwide subscribers.
Is it time for Snap investors to worry?
This disparity could signal that Snap has a huge growth potential as it continues to grow its subscriber base and attract more advertiser spending. This perspective is the optimistic way to look at the ARPU gap. The negative one is that the huge ARPU gap could signal the steep hill that Snap has to climb before it can reach financial prosperity (QQQ) (SPY). From this perspective, Snap could have several odds stacked up against it given the rate at which competitors are cloning its distinctive features and the many deep-pocket rivals like Facebook and Alphabet's (GOOGL) Google that it has to battle.