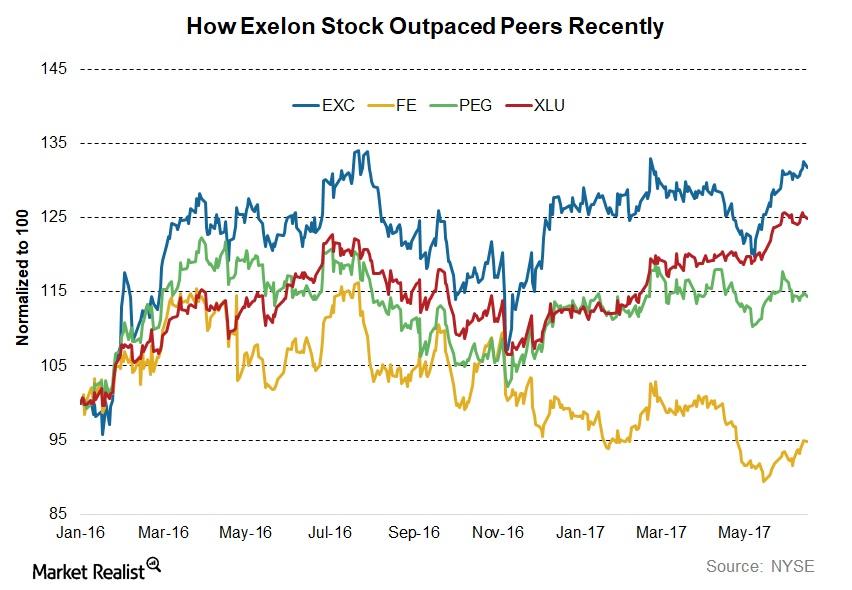 EXC, FE, and PEG: Are Hybrid Utilities Really Worth the Risk?
Are hybrid utilities attractive?
US utilities including giants like Duke Energy (DUK) and Southern Company (SO) have done fairly well in the last few months compared to broader markets. The rally boosted utilities' valuations, and analysts now expect sluggish movements in them going forward. A part of the S&P 500 Utilities Index (XLU) that now looks attractive and has seen a relatively weak performance is hybrid utilities. Leading hybrids like Exelon (EXC) and FirstEnergy (FE) are presently trading at attractive valuations, and their price targets offer handsome upside potential as well. However, the imperative question here is, are they worth the risk?
Article continues below advertisement
Article continues below advertisement
Market performance
The chart above shows the comparative market performance of Exelon, the largest hybrid utility by market capitalization, FirstEnergy, and Public Service Enterprise Group (PEG) along with broader utilities (XLU). Exelon outpaced peers by a fair margin. FirstEnergy has been severely underperforming peers for the last several years.
Why hybrids are relatively risky
Hybrid utilities generally derive a high portion of their total revenues from competitive operations. Lower natural gas prices marred wholesale power prices in the last few years, which ultimately dented hybrid utilities' performance. At the same time, lower demand fueled the fall in wholesale power prices. Wholesale power prices across major trading hubs in the US were nearly cut in half in the last couple of years and are averaging around $30 per MWh (megawatt-hour) in 2017.
While wholesale power prices show less possibility of revival in the near future, Exelon and Public Service Enterprise Group are planning to shut their nuclear power plants due to their high operating expenses. FirstEnergy plans to become a pure-play regulated utility in the next few years.
With plenty of challenges and few plusses, which hybrid utility stock should you consider? We'll look at this question in the next parts of our series.