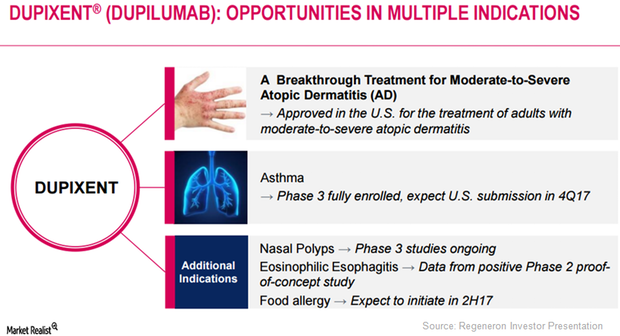 Eosinophilic Esophagitis: Major Market Opportunity for Dupixent?
Eosinophilic esophagitis
In its 1Q17 earnings conference call, Regeneron Pharmaceuticals (REGN) announced that it had obtained positive results from its Phase 2 proof-of-concept study evaluating Dupixent in eosinophilic esophagitis (or EoE). This condition leads to chronic inflammation of the esophagus and can result in dysphasia in patients. While the condition is challenging in adults, it's even more serious in the pediatric population. Since food allergies are considered one of the key factors causing EoE, Regeneron and Sanofi (SNY) plan to initiate a Phase 2 study that will study the efficacy of Dupixent in patients suffering from certain food allergies.
In its 1Q17 earnings conference call, Regeneron said that the prevalence of EoE in the adult US population is estimated at 100,000–200,000. However, the company expects that lower diagnosis rates may be masking a much larger patient population suffering from EoE.
If the FDA (U.S. Food & Drug Administration) approves Dupixent for this underserved population segment, it may have a favorable impact on Regeneron stock as well as the stock of the SPDR S&P 500 ETF (SPY). Regeneron makes up about 0.17% of SPY's total portfolio holdings.
Article continues below advertisement
Article continues below advertisement
Payer access
Currently, Dupixent has secured coverage from the two largest pharmacy benefit managers (or PBMs) in the United States—Express Scripts (ESRX) and CVS Caremark (CVS)—for adults suffering from moderate to severe atopic dermatitis (or AD). The utilization management criteria of these PBMs for the drug require a prescription from a specialist such as an immunologist, dermatologist, or allergist, and not a general practitioner. The criteria also include certification that the patient actually does suffer from moderate-to-severe AD and has already failed to respond to topical corticosteroids. The utilization criteria are in accordance with Regeneron's expectations.
Regeneron also expects the third-largest PBM in the United States to approve access for Dupixent by July 2017. The company is also negotiating with regional and smaller healthcare insurers to expand access for Dupixent. It's also striving to ensure that the utilization criteria for Dupixent don't include prior off-label usage of immunosuppresants, since that can lead to conditions such as hypertension, cancer, or organ failure.
In the next part of this series, we'll look at the growth prospects for recently launched Kevzara.