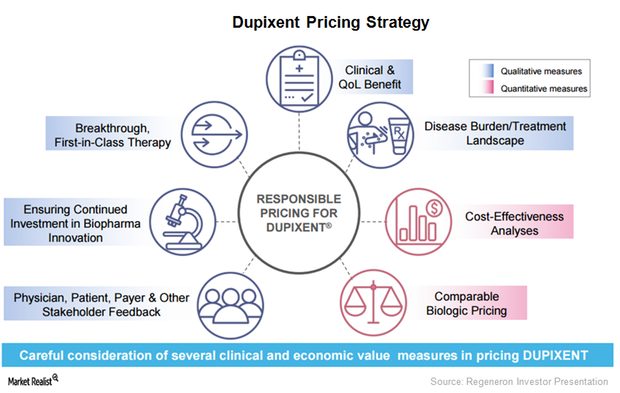 Dupixent May Be a Major Growth Driver for Regeneron in 2017
Dupixent's target population
Regeneron Pharmaceuticals (REGN) and Sanofi's (SNY) IL-4/IL-13 (interleukin 4 and interleukin 13) blocker Dupixent has been approved by the FDA (U.S. Food & Drug Administration) for moderate-to-severe atopic dermatitis (or AD) in adult patients who do not respond effectively to topical therapies or who cannot tolerate topical treatments such as Perrigo's (PRGO) hydrocortisone 1.0% powder or Mylan's (MYL) triamcinolone. Dupixent's target population is comprised of around 300,000 difficult-to-treat moderate-to-severe AD patients who have already exhausted the use of all approved AD therapies and are not responsive or tolerant to unapproved immunosuppressant therapies.
Article continues below advertisement
Article continues below advertisement
Commercial strategy
After Dupixent's commercial launch, Regeneron has been involved in creating awareness for the drug among physicians who have been treating AD patients and also have the experience of prescribing biologic therapies. Regeneron plans to focus on 7,000 physicians in the United States, including dermatologists treating psoriasis patients, allergists, and immunologists.
Regeneron has also focused on ensuring access to the drug by adopting a responsible pricing strategy. The company expects the drug to be prescribed by specialists in place of off-label prescriptions for possibly toxic systemic immunosuppressants.
Currently, Dupixent is being covered by two of the largest pharmacy benefit managers in the United States, which have set formularies for 25.0% of the people enrolled in commercial plans. As the company continues to negotiate with other payers, Regeneron is confident that it will expand access for Dupixent in 2017.
In 4Q16, Regeneron and Sanofi filed a marketing authorization application with the European Commission seeking regulatory approval for Dupixent in Europe. The company anticipates this regulatory approval by the end of 2017.
If these efforts prove successful, Dupixent may have a favorable impact on Regeneron stock as well as the stock of the Vanguard Growth ETF (VUG). Regeneron makes up about 0.35% of VUG's total portfolio holdings.