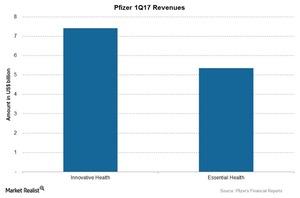 Behind Pfizer's Business Segments in 1Q17
Pfizer's business
Pfizer's (PFE) business includes two business segments: Innovative Health segment and Essential Health. Both segments deal in medicines, vaccines, and consumer healthcare products.
Article continues below advertisement
Article continues below advertisement
Innovative Health 
Pfizer's Innovative Health segment includes innovative pharmaceuticals including vaccines, oncology products, and consumer healthcare products. The segment contributes ~58% of PFE's total revenues and reported an operational growth of 6% to $7.4 billion for 1Q17, due to an increase in the overall sales of drugs like Eliquis, Ibrance, Lyrica, Xeljanz, Xtandi, new products, and alliance revenues.
Essential Health
Pfizer's Essential Health segment includes established pharmaceuticals including legacy Hospira products, which were acquired in 2015. At constant exchange rates, the segment reported a revenue decline of 9% to $5.36 billion for 1Q17, driven by increased sales of legacy Hospira products.
However, lower sales from Peri-LOE and legacy established products substantially offset the growth in the segment in 1Q17. Excluding Hospira product revenues, the segment's revenues fell to $5.27 billion in 1Q17, representing a 6% decline at constant exchange rates as compared to 1Q16.
Notably, to divest company-specific risks, investors can consider ETFs like the iShares S&P Global 100 ETF (IOO), which has ~2.0% of its total assets in Pfizer. IOO also has 3.1% of its total assets in Johnson & Johnson (JNJ), 2.0% in Novartis (NVS), and 1.8% in Merck (MRK).