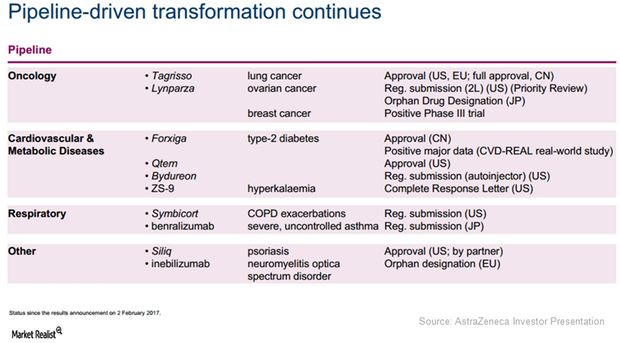 AstraZeneca May Witness a Fall in 2017 Net Profit Margin
Decline in net profit margin
In its 1Q17 earnings conference call, AstraZeneca (AZN) reiterated its previous EPS (earnings per share) guidance for 2017. Wall Street analysts have projected the company's 2017 net profit margins at about 12.2%, which is lower by 300 basis points on a YoY (year-over-year) basis.
Despite revenue pressures arising from the loss of patent exclusivity of Crestor, AstraZeneca is confident that it will control the fall in EPS by focusing on cost optimization and transformation of the New AstraZeneca portfolio. The company has projected its 2017 core R&D (research and development) expenses to be close to those in 2016, while 2017 core SG&A (selling, general, and administrative) expenses are expected to be lower on a YoY basis. To know more about AstraZeneca's 2017 margin growth trends, please refer to AstraZeneca Expects Fall in Net Profit Margins in 2017.
In 1Q17, the company reported core EPS of around $0.99, which was only a 4.0% YoY fall on a constant currency basis. On a reported basis, however, the company's core EPS was higher by 4.0% on YoY basis.
Article continues below advertisement
Tagrisso approvals
The above table lists the major pipeline milestones AstraZeneca reached in 1Q17. The full approval secured for Tagrisso across multiple markets could prove to be a major short-term growth driver for the company in 2017. It may also help boost AstraZeneca stock as well as the stock of the Van Eck Vectors Pharmaceutical ETF (PPH) since the company makes up about 4.7% of the fund's total portfolio holdings.
On March 30, 2017, Tagrisso received regular approval from the FDA (U.S. Food & Drug Administration) as a therapy for patients suffering with metastatic EGFR (epidermal growth factor receptor) T790M mutation-positive NSCLC (non-small cell lung cancer) and who witnessed disease progression after treatment with an EGFR TKI (tyrosine kinase inhibitor). This is a conversion of the accelerated approval secured by Tagrisso in November 2015. Currently, AstraZeneca is competing with Pfizer (PFE), Merck & Co. (MRK), and Bristol-Myers Squibb (BMY) in the oncology space.
Tagrisso also secured full approval from the European Commission in April 2017 for the same indication. Since its launch in China, the drug has witnessed solid demand trends in this new market.
In the next part, let's look at the growth prospects for AstraZeneca's oncology portfolio.