AstraZeneca Aims to Offer Multiple Therapies in NSCLC Segment
EGFR mutant NSCLC has become a major market opportunity for AstraZeneca's drugs Tagrisso and Iressa.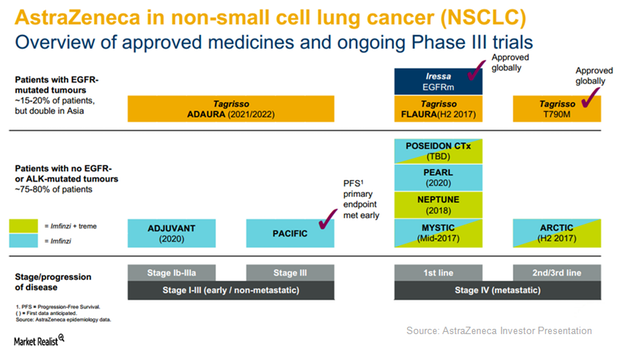 Non-small cell lung cancer segment
AstraZeneca (AZN) has estimated that around 85.0% of lung cancer patients suffer from NSCLC (non-small cell lung cancer), while the remaining 15.0% are afflicted with SCLC (small cell lung cancer). Around 15.0%–20.0% of NSCLC patients are affected by EGFR (epidermal growth factor receptor) mutant NSCLC. In Asian markets such as China and Japan, this percentage is even higher at around 30.0%–40.0%. So EGFR mutant NSCLC has become a major market opportunity for AstraZeneca's drugs Tagrisso and Iressa. AstraZeneca is also aiming to launch therapies suitable to treat other variants of the diseases such as early stage or non-metastatic and stage IV metastatic NSCLC.
If AstraZeneca succeeds in launching therapies suitable for all types of NSCLC patients, it will have a favorable impact on the company's stock as well as the stock of the Vanguard Total World Stock ETF (VT). AstraZeneca makes up about 0.10% of VT's total portfolio holdings.
Article continues below advertisement
Article continues below advertisement
Multiple therapies for EGFR mutant NSCLC
In the ADAURA trial, AstraZeneca is comparing Tagrisso with a placebo in EGFR mutant Stage Ib-IIIA NSCLC patients after they have witnessed complete tumor resection and then either treated with or without adjuvant chemotherapy. Data from this trial are anticipated at the earliest by 2021. Iressa has already established its position in the first line EGFR mutant NSCLC space. However, if the patients witness disease progression after being treated with Iressa, those with a T790M mutation can opt for Tagrisso as a second line therapy.
AstraZeneca believes that the FLAURA trial will position Tagrisso as the best EGFR inhibitor in a first line NSCLC setting. The drug's efficacy in treating brain metastases can contribute significantly to strengthening Tagrisso's position in the oncology market. So despite competition from Bristol-Myers Squibb (BMY), Merck & Co. (MRK), and Roche Holdings (RHHBY), AstraZeneca continues to be a major player in the NSCLC segment.
In the next part of this series, we'll look at AstraZeneca's research programs to establish the company's position in the NSCLC market for patients without EGFR or ALK (anaplastic lymphoma kinase) mutations.