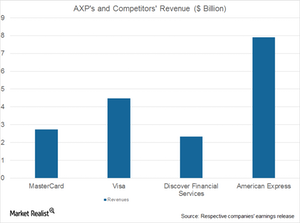 American Express to Ride on Partnerships, Digitization
Going digital
American Express (or Amex) (AXP) has entered into digital partnerships with Airbnb, Facebook (FB), and Uber in order to offset the revenue loss from Costco (COST). It's planning to go online in order to enhance customer experience, and in April 2017, it expanded its Facebook Messenger chatbot offerings. At the beginning of 2000, Hilton Worldwide Holdings (HLT) opted to split its portfolio between Citi Group (C) and Amex. In June 2017, Amex expanded its partnership with Hilton, and at the beginning of January 2018, it will be the sole issuer of Hilton credit cards. Currently, Hilton credit cards are issued by both Amex and Citi Group. This step to expand its partnership with Hilton could prove very beneficial for Amex in terms of increasing its customer base, which would, in turn, lead to an increase in spending volumes.
Article continues below advertisement
Amex has also been achieving growth through proprietary spending. It's been entering into various co-brand partnerships with well known and major brands, which could prove beneficial for the company considering the long-term perspective. American Express reported revenues of $7.9 billion, whereas its consumer finance peers (XLF) such as MasterCard (MA), Visa (V), and Discover Financial Services (DFS) reported the following revenues for March 31, 2017:
Recovering from Costco break-up
American Express (AXP) has now started to rebound from the losses it suffered from the sale of its Costco (COST) portfolio. More than 8.0% of its billed business came from Costco. In 2015, 22.0% of its billed business was comprised of co-brands. By the second half of 2016, this segment showed a decline of seven percentage points. Amex's two major partnerships with Starwood Hotels and Delta witnessed subdued growth on a YoY (year-over-year) basis in terms of volumes. Amex has now adopted strategies to focus on digital delivery and record ad spending in order to attract new customers. Fortunately, this strategy has started to pay off, as reflected in Amex's 1Q17 results. Amex added 2.6 million new cardholders in 1Q17, of which 60.0% came from digital channels.