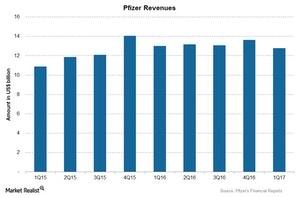 A Look at Pfizer's Revenue for 1Q17
<p>Pfizer (PFE) reported a 2.0% fall in 1Q17 revenues to ~$12.8 billion, with a 1.0% operational fall in revenues and a 1.0% negative impact of foreign exchange.</p>
Pfizer's revenue for 1Q17
Pfizer (PFE) reported a 2.0% fall in 1Q17 revenues to ~$12.8 billion, with a 1.0% operational fall in revenues and a 1.0% negative impact of foreign exchange. Wall Street analysts expect a 0.60% fall in 2Q17 revenues to ~$13.1 billion compared to 2Q16.
Pfizer's total revenues include revenues from its Innovative Health business and its Essential Health business, including Hospira. Both of these business segments contribute substantially to the company's total revenues. The Innovative Health business drives growth in revenues, while the Essential Health business consists of established products that have a significant market share.
If we exclude the legacy Hospira products, Pfizer reported a 1.0% operational growth in its 1Q17 revenues.
Article continues below advertisement
Article continues below advertisement
Geographical performance
Geographically, Pfizer's US markets reported a fall in revenues to $6.6 billion in 1Q17. Outside the US markets, it reported a 3.0% fall to $6.1 billion for the quarter. Overall, the contribution was as follows:
US markets: $6.6 billion, or 52.0% of total revenues
outside the US markets: $6.2 billion, or ~48.0% of total revenues
We'll go into detail about the products that are driving geographical growth later in this series.
Segment performance
The Innovative Health segment reported a 6.0% operational growth, and the Essential Health segment reported a 9.0% fall in operating revenues in 1Q17. We'll do a detailed segment analysis and performance in the next part of this series.
To divest the company-specific risks, you can consider the PowerShares Dynamic Pharmaceuticals ETF (PJP), which holds 4.9% of its total assets in Pfizer. PJP also holds 4.7% in Amgen (AMGN), 4.6% in Allergan (AGN), and 4.8% in Gilead Sciences (GILD).