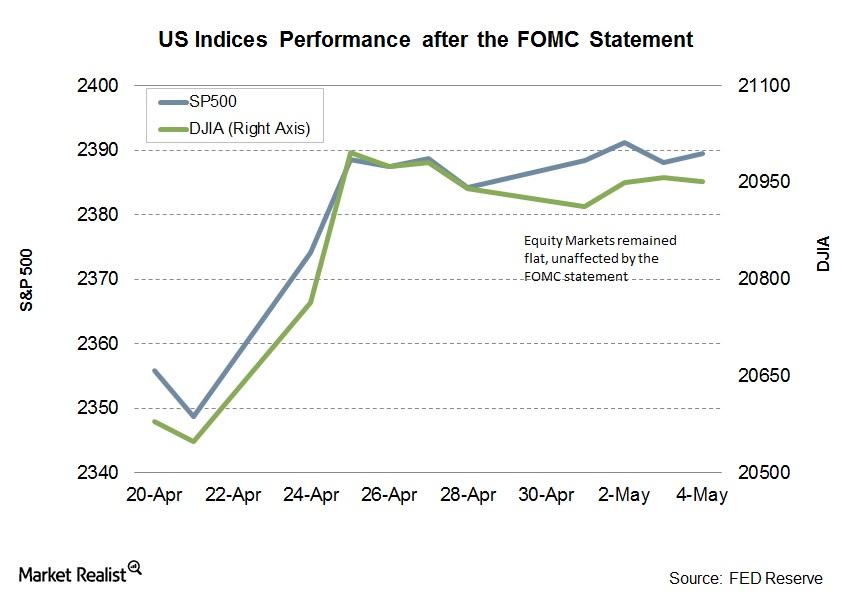 Why the FOMC Statement Didn't Affect Equity Markets
Recent developments in the markets
Since the previous Fed meeting in March, where the Fed announced a 0.25% rate hike, equity markets (IWV) around the globe remained dovish. US and global economic data remained weak. Geopolitical risks out of North Korea and Syria kept investors on the sidelines, and the French elections added to uncertainty.
Article continues below advertisement
Article continues below advertisement
US indices remain stuck near their peaks
US indices approached recent highs. The Dow Jones (DIA) is sticking near the 21,000 mark while the S&P 500 (IVE) is hovering near the 2,400 mark. The NASDAQ (QQQ) index has been the best performer so far with a return greater than 12% this year and making its mark above the 6,000 level in the first week of May.
Markets' reaction to the Fed statement has been fairly muted. The Fed acted as expected and left rates unchanged.
What do federal funds futures indicate?
Federal funds futures have fallen since the FOMC statement's release. Futures prices indicate a 90% chance of a rate hike in June, which means markets are quite certain there will be another round of tightening at the next FOMC meeting. The June meeting is scheduled to begin June 14, and the outcome would be announced in a statement after the two-day meeting ends. We can expect a press conference following the June FOMC meeting, unlike the May meeting with only a statement.
In the next part of this series, we'll look at how the fixed income (SJNK) and currency markets reacted to the FOMC statement.