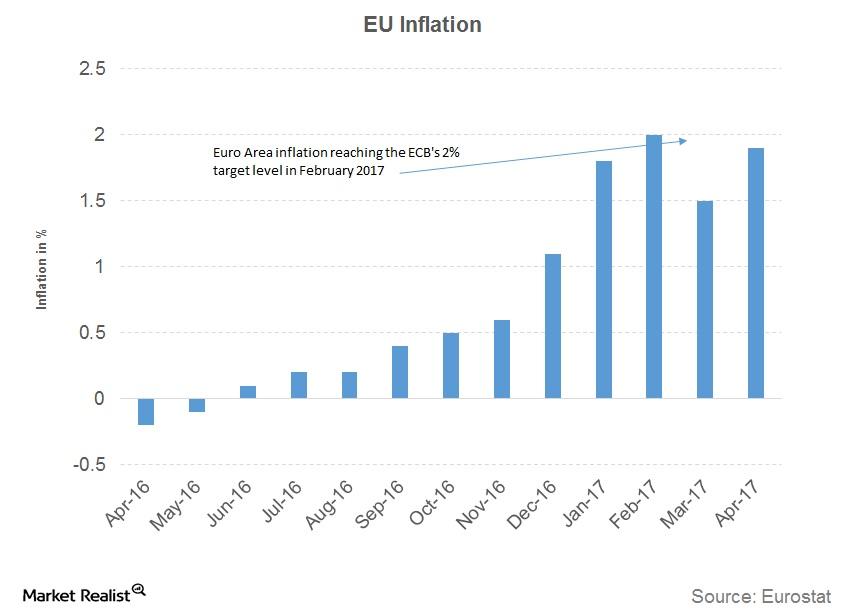 Why the ECB Is Struggling to Hide Its Excitement
Recent policy statement from the ECB
The European Central Bank's (or ECB) policy statement that was released on April 28 reported that the ECB left monetary policy unchanged, which was in line with expectations. ECB chair Draghi tried to convince markets (VGK) (EZU) that there wouldn't be any change to guidance and that policy would remain accommodating.
The quantitative easing program will continue with asset purchases of 60 billion euros per month, and the ECB suggested it would lean towards further policy easing if required.
Article continues below advertisement
No signs of rate hikes in the near future
The ECB's statement and comments from the ECB chair indicate that there could be a further fall in European interest rates and that the scaling back of the asset purchase program likely won't begin until January 2018. ECB chair Draghi acknowledged the improved economic conditions but said that the rates would remain at the current lower levels. European bonds (BWX) and the euro (FXE) sold off after the dovish comments from the ECB chair.
Draghi also mentioned the French elections and said that political uncertainty will have an impact on the ECB's policy. He thinks that election uncertainty will increase the yield spread between the major (EWU) and peripheral nations in the Eurozone.
Possible future path for the ECB
The ECB is likely to remain dovish and create a policy cushion before implementing a rate hike. Markets don't expect any tightening from the ECB at least until 2018, and the policy divergence between the US and Eurozone is expected to help keep rates lower in Europe and the euro below the $1.10 mark.