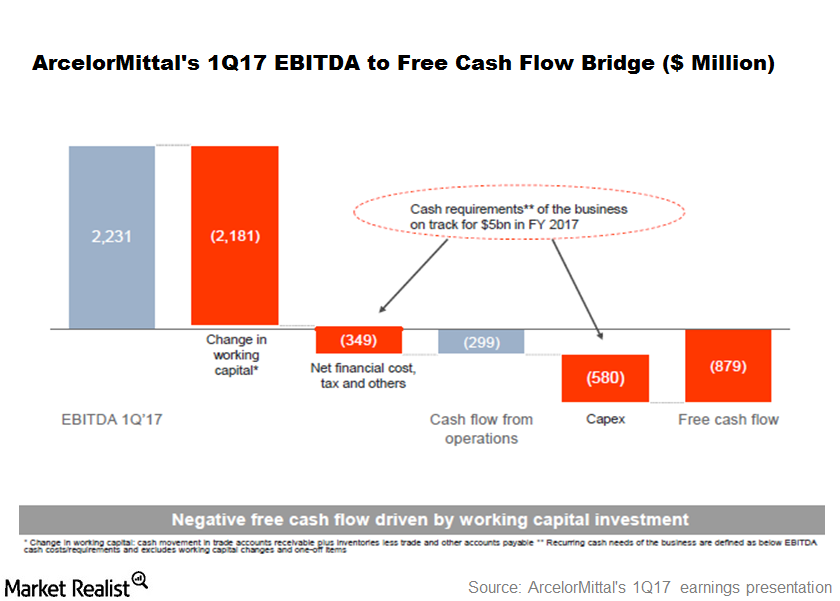 Why Investors Shouldn't Fret over MT's Negative Free Cash Flow
Negative free cash flow
Previously in this series, we looked at ArcelorMittal's (MT) 1Q17 revenue and profits. Along with these metrics, the market is also interested in cash flow and leverage position.
Some steel companies (PKX) (GGB) were saddled with huge debt last year and took measures to cut their debt levels. Generating negative free cash flow would negate some of the debt reductions that these companies have completed in recent quarters. In this article, we'll look at ArcelorMittal's 1Q17 cash flow and leverage positions.
Article continues below advertisement
1Q17 cash flow
ArcelorMittal generated free cash flow of -$879 million in 1Q17. However, investors shouldn't fret over the company's negative free cash flow, as it's primarily the result of working capital buildup. ArcelorMittal's working capital rose $2.2 billion in 1Q17 compared to the previous quarter. This inventory buildup is typical for ArcelorMittal in its first quarter, and working capital release tends to be a source of cash for it in other quarters.
However, the buildup this year was somewhat higher than in previous years due to the uptick in steel market conditions. Remember that receivables and inventory levels also tend to increase with improvements in the steel market (TX) (CMC). Higher raw material and steel prices have also led to higher working capital needs for other steelmakers.
Leverage
As of the end of 1Q17, ArcelorMittal had net debt of $12.1 billion. Net debt is defined as total debt minus cash and cash equivalents. ArcelorMittal's net debt rose ~$1 billion in 1Q17 compared to 4Q16 due to its working capital buildup. Nonetheless, ArcelorMittal's leverage position looks much more manageable now compared to last year.
Meanwhile, some brokerages have cut their ratings for steel stocks over the last couple of weeks. You can read How Are Analysts Rating Steel Stocks amid Heightened Volatility? to learn more.
You can also visit Market Realist's Steel page for ongoing updates on the industry.