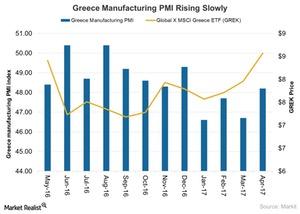 Why Greece's Manufacturing Activity Is Struggling amid Improved Expectations
Manufacturing activity in Greece
Greece's government is currently struggling under a huge debt burden (BND) and has recently reached a preliminary deal for a crucial bailout payment in 2017. Amid the financial chaos, however, Greek (GREK) manufacturing activity rose in April 2017, though it remains below the acceptable mark of 50.
Business conditions among Greek manufacturers continued to worsen in April, and another marked drop in new orders led to a further fall in output. Meanwhile, Greek firms further reduced staff and purchasing activity due to the general slowdown in economic activity.
Article continues below advertisement
Manufacturing sector performance
The Markit Greece (GREK) Manufacturing PMI rose to 48.2 in April, up from 46.7 in March. But this April reading points to the eighth straight contraction in factory activity—its weakest pace since December 2016. New orders, production, and staffing numbers all declined at the slowest pace since December 2016.
In terms of producer prices, Greek companies continued to face higher input costs, though at weaker rates, and average selling prices remained unchanged. Firms have maintained positive expectations for output growth in 2017.
Greece's GDP is expected to rise 1.3% and 1.4% in 2017 and 2018, respectively, according to the latest IMF (International Monetary Fund) economic outlook report. The manufacturing PMI in Greece has averaged 46.05 from 2011 to 2017.
Investment impact
The marked rise in input prices along with stagnant output prices are expected to squeeze margins for Greek manufacturers. However, Greek companies still maintain an optimistic outlook for output growth in coming years. Improved economic activity in Greece is expected to impact investments positively in Europe in 2017.
ETFs including the Vanguard FTSE Europe ETF (VGK), the iShares MSCI EMU (EZU), the SPDR EURO STOXX 50 ETF (FEZ), and the iShares S&P Europe (IEV) are all expected to benefit from improved manufacturing activity in Greece.
Now let's shift our focus to Russia.