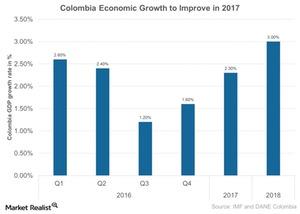 Why Colombian Stocks Are Surging in 2017
Economic growth in Colombia
Colombia's (GXG) economic growth is advancing amid large external and domestic turmoil. However, its economic growth has outpaced regional participants (EWZ) (ECH) over the past few years. As the third-largest economy in Latin America (ILF), Colombia (ICOL) is expected to recover from its subdued growth of ~2% in 2016, which was its lowest figure since 2009.
According to the IMF (International Monetary Fund), these improvements will largely be driven by the higher commodity prices expected in 2017.
Article continues below advertisement
Economic performance in 2016
The Colombian economy (ICOL) grew by 1.6% on a YoY (year-over-year) basis in the fourth quarter of 2016, which represents a 1.2% expansion over the previous period and beat market expectations. Sectors including finance, insurance, and real estate grew 5% in 4Q16, as compared to 3.9% in 3Q16. Internal trade rose ~1.6%, as compared to 0.1% in 3Q16.
The Colombian economy annually expanded 2% in 2016, as compared to 3.1% in 2015. The IMF is forecasting 2.3% GDP growth for Colombia in 2017, which would represent a decline from the 2.7% expansion predicted in its October 2016 outlook report. The IMF's forecast for Colombian growth in 2018 remains unchanged at 3.0%.
Meanwhile, the Colombian peso has remained relatively stable over the past year, and inflation has fallen to ~4.7% as of April 2017. Retail trade in Colombia rose 1.9% YoY in March 2017, as compared to a drop of 7.2% in February 2017. All these factors are positively impacting the Colombia's market performance so far in 2017.
Colombia's benchmark index
Recently, Colombia's benchmark index (COLCAP) gained about 3% in March 2017, and manufacturing production rose 4.8% YoY during the same period. So far in 2017, COLCAP has gained ~7% as of May 12, 2017.
The gain in Colombia's manufacturing PMI (purchasing manager's index) in March 2017 followed a 3.2% fall in February 2017 and was the strongest rise since August 2016. Financial stocks and materials led the overall index gains (AND).
Now let's check in with Mexico.