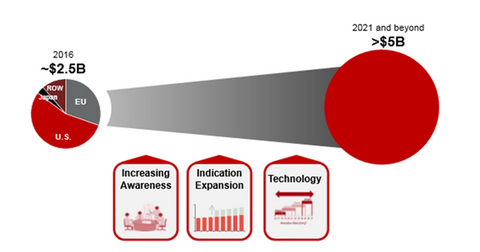 What Results Did Edwards Lifesciences' Centera Valve Study Yield?
By Sarah Collins

Updated
Centera valve
Edwards Lifesciences' (EW) self-expanding transcatheter heart valve, Centera, is an investigational device and isn't yet available in any country. CE Mark approval for the device is expected in 4Q17.
Trials are being undertaken on patients suffering from SSAS (severe, symptomatic aortic stenosis) who are at a high risk for open-heart surgery. On May 17, 2017, Edwards Lifesciences posted its Centera valve study data at EuroPCR 2017 in Paris.
The device will expand the company's patient base and help it to strengthen its market position in the heart valve space. The below diagram shows the potential opportunity in the TAVR (transcatheter aortic valve replacement) space.
Article continues below advertisement
Trial results
Around 203 patients were enrolled in the study and treated with the Centera valve via the transfemoral route. The company's 30-day trial data reported that it disabled a stroke in 2.5% of patients and had a survival rate of 99%. These results demonstrated excellent patient outcomes.
The trial included 203 patients at ~23 sites in Europe, Australia, and New Zealand. The patients will be monitored for the next five years.
According to Dr. Didier Tchétché, the data presenter, "The Edwards CENTERA valve demonstrates extremely favorable early clinical safety and performance outcomes in the high surgical risk TAVR population. In addition to excellent patient outcomes, the valve also offers several unique features and an innovative tissue design, all of which simplify the procedure for clinicians."
Edwards Lifesciences' major competitors in this space include Boston Scientific (BSX), Abbott Laboratories (ABT), and Medtronic (MDT). You can invest in the Vanguard Total Stock Market ETF (VTI) to gain exposure to Edwards Lifesciences.