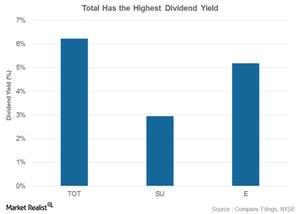 TOT, SU, E, and PBR: Comparing Their Dividend Yields
Dividend yields
Total (TOT), Suncor Energy (SU), ENI (E), and Petrobras (PBR) have provided steady returns to their shareholders in the form of dividends. In this article, we'll evaluate the dividend yields of these foreign integrated energy companies. The yield is estimated as a ratio of a company's annualized dividends to the price of the stock.
TOT has the highest dividend yield among the foreign integrated energy stocks under discussion, standing at 6.2%. Following is ENI with a 5.2% yield and Suncor Energy with a 2.9% yield. Petrobras (PBR) has not paid dividends due to subdued oil prices, which impacted its financials in the past several years.
For exposure to high-dividend stocks, you can consider the iShares Core High Dividend ETF (HDV). HDV has ~16% exposure to energy sector stocks.
In the next part, we'll perform a cross-sectional analysis of foreign integrated energy stocks' forward valuations.
Article continues below advertisement