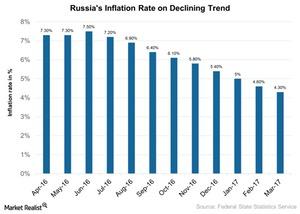 Russian Economy Gains Traction as Inflation Nears Target
Inflation in Russia
Russia's central bank recently lowered its key interest rate by half a percentage point to 9.25% in April 2017. According to the central bank, the reduction in interest rate is because inflation is moving down to its 4% target and the Russian economy (RSX) is showing signs of recovery in 2017.
Article continues below advertisement
IMF projects inflation of 4.5% for 2017
As we can see in the chart above, inflation dropped to 4.3% in March 2017 from 4.6% in February 2017. The seasonally adjusted monthly inflation is also at a low level for February and March 2017 mainly due to a high level of supply including 2015–2016 bumper harvests.
The inflation rate in Russia (RUSL) has fallen steadily since last year from a peak of 12.9% in 2015. According to the central bank, the falling inflation is mainly a result of the appreciation of the ruble due to recovery in oil prices (USO) and the interest of foreign investors in Russia's assets (RBL).
Reasons for drop in inflation
Russia's inflation rate has been falling sharply due to a rise in the ruble's exchange rate, which has also pushed down inflation expectations for 2017. Appreciation in the ruble has helped inflation to fall sharply over the last few months. The Russian currency has appreciated almost 19% against the US dollar (UUP) (USDU) in 2017 so far. However, the continuous appreciation of the ruble (ERUS) is likely to impact its exports going forward. An appreciation in domestic currency means that costs set in the ruble rise in US dollar terms. Thus, exports get more expensive. However, appreciation of domestic currency is beneficial for importers.
Let's look at the ruble's performance in the last year to understand the market performance of Russia in our next article.