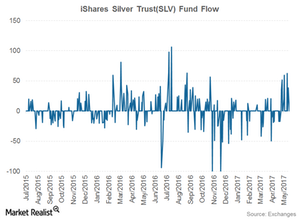 Reading the Fund Flows of the iShares Silver Trust
Silver's volatility
Over the past year, silver has been very volatile compared to the other three precious metals. Silver was the highest among precious metals in mid-April 2017. However, it later fell considerably. Just like gold, the fall in silver could significantly cause silver-based funds to lose their allure.
The iShares Silver Trust (SLV), the silver-based fund, saw a year-to-date rise of only 4.0%, which is much lower than April's high. SLV pulled about $222.0 million in the first four months of 2016.
As of the beginning of May 2017, investors started backing off of SLV, resulting in an oversold position. The above graph shows how money has been flowing in and out of silver since mid-2015. After mid-April 2017, the price of silver fell, so it was surprising to see money flowing into the fund.
Another famous silver-based fund that investors look to as an alternative investment is the ETFS Physical Silver (SIVR).
Article continues below advertisement
Silver miners
The fluctuations in silver prices also cause changes in silver mining companies such as Coeur Mining (CDE), Silver Wheaton (SLW), First Majestic Silver (AG), and Pan American Silver (PAAS). These four companies have seen their gains washed away over the past few weeks as silver tumbled lower.
Investors that have an interest in buying silver may also look at the flows of SLV for a directional move in the metal. It's possible that the flows may deviate from the price fluctuations. However, it can be a good estimate for investor sentiment.