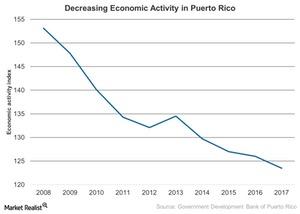 Puerto Rico's Structural Problems Are Similar to Greece's
By Mary Sadler

May. 8 2017, Updated 6:05 p.m. ET
Reduced economic activity in Puerto Rico
Puerto Rico shares a story similar to Greece's (GREK) in terms of its dismal economic performance and exacerbated debt issues. With its rising debt at ~$72 billion and its shrinking economy, Puerto Rico needs to pay much more attention to the structural issues impacting its economic performance.
Let's take a look at Puerto Rico's economic activity indicators over the last few years.
Article continues below advertisement
Fall in economic activity
The economic activity indicator (or EAI) is a coincident index for Puerto Rico's (HYMB) (SHYD) economic activity. EAI is highly related to Puerto Rico's real gross national product (or GNP) in terms of both level and annual growth rate. As we can see, the region's economic activity has been falling since 2006.
The EAI for March 2017 was 121.0, a 2.5% fall compared to March 2016. Puerto Rico's economic activity also fell 0.4% in March 2017 compared to February 2017.
Structural problems
Puerto Rico's economic problems seem to be more structural than cyclical, so the region will need structural reforms to cope with its several issues. Puerto Rico's economy has seen several shocks in the last decade, including the following:
fall in manufacturing activity
housing market slump
banking crisis
2007–2009 economic recession
Apart from these cyclical factors, more significant factors on the supply side have affected the region's economic activity. These supply-side factors include the following:
Article continues below advertisement
low labor participation rate at a meager 40%
high labor costs
outmigration resulting in population shortfall, which, according to the Puerto Rico Planning Board, could continue through 2020
high energy costs due to the inefficient transmission and distribution of electricity
high transportation costs and barriers to competition and business activity
Puerto Rico's economy seems to be in a cycle in which unsustainable public finances are feeding into uncertainty and weakening growth, resulting in an increasing fiscal deficit and a high debt ratio, according to IMF (International Monetary Fund) economists.
Investment impact
The financial and economic crisis in Puerto Rico has affected the performances of ETFs that have high exposures to bonds issued by Puerto Rico and other municipalities. 
Some of these ETFs include the State Street SPDR Barclays Short Term Municipal Bond ETF (SHM), the iShares National AMT-Free Municipal Bond ETF (MUB), and the Invesco PowerShares VRDO Tax-Free Weekly ETF (PVI).
For more information on Puerto Rico, read Looming Uncertainty of Puerto Rico's Debt Crisis.