Looming Uncertainty of Puerto Rico's Debt Crisis
Puerto Rico is currently in a meltdown mode. Over the past decade, it has accumulated $70.0 billion in public debt, which is close to 68.0% of its GDP.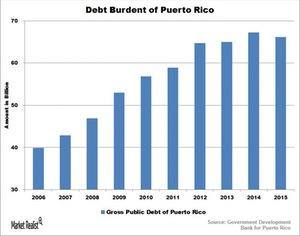 VanEck
Puerto Rico's Debt Crisis
It is unclear what exact plans Trump has when it comes to dealing with the Puerto Rico's debt crisis — the island has already defaulted on a portion of the $70 billion in municipal bonds it has issued. The president-elect has previously said that the U.S. government should not bail out the island, and that the commonwealth should instead cut spending. It should be noted that the governor-elect (of Puerto Rico) is not seeking a bailout, however, but instead the legal ability to restructure its debts.
Article continues below advertisement
Article continues below advertisement
Immediately following election night, some Puerto Rico general obligations rose to new yearly highs on the election of Ricardo Rossello, a New Progressive Party candidate, as governor. Rossello, whose party favors Puerto Rico's statehood, has previously said that bondholders should be paid with interest if they acquiesce to a longer wait for principal payments — in other words, if Puerto Rico's debt can be restructured. This stance is in sharp contrast to that of the current Puerto Rican administration, which has already defaulted on roughly $1.8 billion in debt service costs in the last year.
Market Realist
Puerto Rico's increased debt burden
Over the past decade, Puerto Rico accumulated $70.0 billion in public debt, which is close to 68.0% of its GDP. Puerto Rico is also marred by an unemployment rate of 13.0% and has the lowest labor participation rate.
The island is also plagued with lower per capita income (half that of Mississippi, the poorest US state), a high cost of living, and a drain of monetary and intellectual capital.
Its popularity rose due to its tax exempt status from all state, federal, and local taxes, attracting US investors hungry for yield. All went well until 2006, when the tax incentives were phased out, leading to many US companies leaving the island and taking jobs with them.
Article continues below advertisement
Following Standard & Poor's downgrade of Puerto Rico's general-obligation bonds (SHM) (HYD) (ITM) to a junk (ANGL) (HYG) level, the financial crisis worsened. As you can see in the above graph, its debt burden ballooned as the crisis unfolded. The debt levels are larger than Detroit's when it filed for bankruptcy. Because it's a commonwealth, Puerto Rico can't declare bankruptcy.
Appointment of Rossello is positive
Some of Puerto Rico's general obligations rallied following the appointment of Ricardo Rosselló as governor. Unlike former Governor Alejandro García Padilla's policies, Rosselló favors paying bondholders interest if they agree to wait longer for principal payments.
Matt Dalton of Belle Haven Investments said, "As a bondholder, you have something to cheer about. At least he's receptive to your needs and your wants."
In the next part, we'll see how president-elect Donald Trump's infrastructure plans could impact the municipal (muni) bond market.