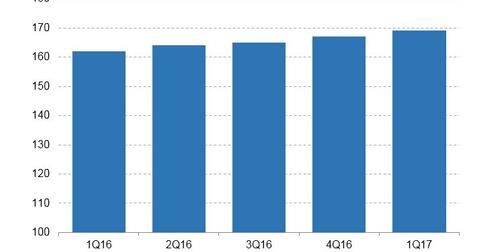 Is eBay's Platform Evolution Bearing Fruit?
By Ruchi Gupta

Updated
Two million new shoppers added
A closer look at eBay's (EBAY) 1Q17 results tells an interesting story about the company's efforts to portray itself as an e-commerce marketplace rather than an old-school auction house.
In this way, the company can bolster itself against rivals such as Amazon (AMZN), Walmart (WMT), and Best Buy (BBY) in the United States (SPY) and the likes of Alibaba (BABA) abroad.
eBay gained 2.0 million new active buyers in 1Q17, the latest sign that its platform evolution efforts could be striking the right chord with online shoppers. By building a marketplace rather than an auction house, eBay is hoping to make its platform more appealing to Millennials, the customer base that's increasingly buying online.
The company closed 1Q17 with 169.0 million active buyers worldwide, up from 162 million in 1Q16, as shown in the chart above.
Article continues below advertisement
Boost to advertising segment
By drawing more shoppers to its platform, eBay is not only paving the way for more e-commerce sales but also creating a more enabling environment for the growth of its advertising business.
The company reported that its Classified revenue had risen 7% to 199.0 million in the quarter, with Germany (EWG) playing a major role in said growth.
More buyers driving more sales
eBay's platform evolution is not only drawing more buyers to its site but also having a positive impact on its top line. Its overall revenue of $2.2 billion in the quarter reflected a rise of 4.0% from a comparable period a year earlier.
eBay expects even more top line growth throughout the remainder of 2017. Its 2Q17 revenue is expected to be in the band of $2.28 billion–$2.32 billion, implying a potential rise of at least 5%.