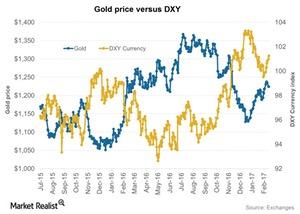 How the Dollar's Revival Is Impacting Precious Metals in May
The US dollar's revival
The US dollar has been slowly bouncing back from its recent fall, particularly now that it's expected that the Federal Reserve meeting in June will result in an interest rate increase for US Treasuries. Remember, the higher the interest rate, the more investors from across the globe will be interested in parking their money in the dollar.
The US Dollar Index (DXY), which prices the dollar against a basket of six major world currencies, has risen ~0.46% on a trailing-five-day basis. Although the dollar has experienced a substantial decline since the beginning of 2017, the increased possibility of a rate hike has given it some breathing room.
Article continues below advertisement
Article continues below advertisement
During the past five trading days (as of May 10), gold and silver have dropped 2.4% and 2.1%, respectively. While it's not always required that the dollar (UUP) and precious metals (SGOL) (SIVR) head in opposite directions, it's likely that this will happen. The higher the US dollar scales, the more expensive it gets for investors from other countries to buy dollar-based assets like gold and silver.
The gold-dollar correlation
The correlation between gold and the US dollar is now at -0.12%. Remember, a negative correlation suggests an inverse relationship, meaning that over the past year, about 12% of the time that the dollar has risen, gold has fallen.
Mining companies also rose on Wednesday, May 10. Among notable gainers were Silver Wheaton (SLW), Eldorado Gold (EGO), Harmony Gold (HMY), and New Gold (NGD).