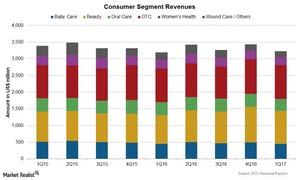 How Johnson & Johnson's Consumer Segment Performed in 1Q17
By Mike Benson

Updated
Consumer segment
Johnson & Johnson's (JNJ) consumer segment includes the baby care, beauty products, oral care, over-the-counter, women's health, and wound care franchises. The Consumer segment reported a rise of 1% in its 1Q17 revenue to $3.2 billion.
The above chart shows the segment's revenues over the last few quarters.
Article continues below advertisement
Baby care franchise
The baby care franchise's revenue fell ~6% to $455 million in 1Q17, following a consumer shift to premium products worldwide. However, the company's completion of Hipoglos acquisition partially offset the revenue fall.
Beauty franchise
The beauty franchise, previously referred to as skin care, includes various brands of beauty products. The franchise reported a rise of ~11.6% in its 1Q17 revenue to $981 million. This growth was driven by the addition of new products after acquiring the product portfolios of NeoStrata, Vogue International, and Light Mask, partially offset by the weak performance of Neutrogena worldwide.
Article continues below advertisement
Oral care franchise
The oral care franchise's revenue fell 6% to $362 million in 1Q17, following weak sales worldwide.
Over-the-counter franchise
The over-the-counter franchise's revenue rose 1.4% to $1.0 billion in 1Q17, driven by the strong performances of Tylenol and upper respiratory products and partially offset by Rhinocort and Zyrtec. The divestiture of the BeTotal brand also negatively impacted the segment's revenue.
Article continues below advertisement
Women's health franchise
The women's health franchise reported a ~4% fall in revenue to $242 million in 1Q17. The franchise's revenue fell due to the company's divestiture of the Tucks brand in 2016.
Wound care franchise
The wound care franchise reported an 11.6% fall in its 1Q17 revenue to $175 million due to JNJ's divestiture of the Splenda brand and lower sales for other products due to competition.
To divest risk, investors can consider ETFs such as the Fidelity MSCI Healthcare ETF (FHLC), which holds 8.8% of its portfolio in Johnson & Johnson. The ETF also holds 5.3% of its total assets in Merck & Co. (MRK), 3.1% in Bristol-Myers Squibb (BMY), and 3.0% in Celgene (CELG).