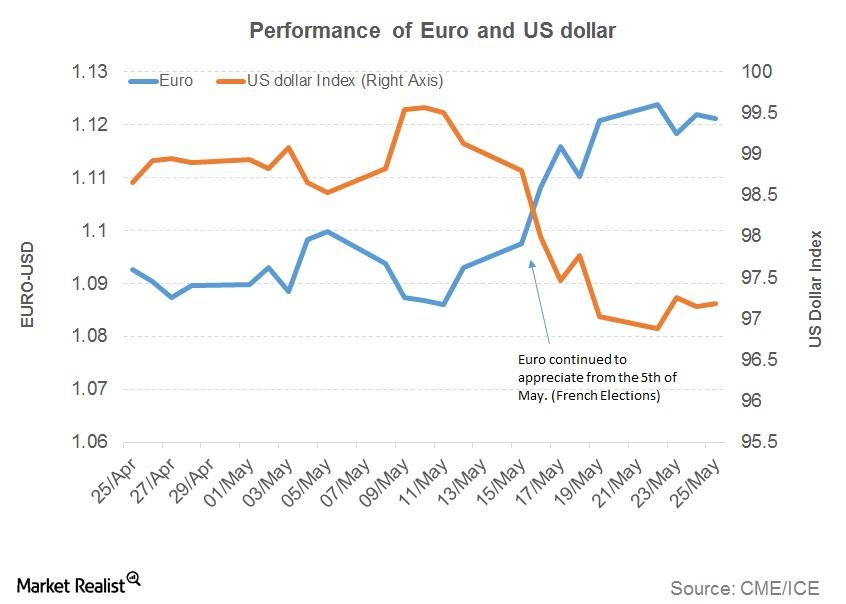 Forex Markets: Will the Euro Dominate?
Euro continues to rise
The euro-US dollar (FXE) continued to rise and claimed a new six-month peak above 1.1250 after the FOMC minutes failed to revive the US dollar (UUP) on May 23. The rally in the shared currency started as soon as the French (EWQ) election results were declared—fears subsided of another European country leaving the Eurozone. The European Union's economic data continued to improve. Recently, Germany's (HEWG) IFO business climate index data were at 114.6 for May—compared to the previous month's reading of 113.0, which indicates strong improvement in business conditions.
Article continues below advertisement
Speculation about ECB tapering
With economic activity racing ahead, markets have started to speculate about future policy action from the ECB (European Central Bank). With lower risks of a Eurozone breakup, optimistic news from the latest bank lending survey will likely increase pressure on the ECB to change its accommodative stance. European employment improved and April recorded the strongest job growth in the last decade. Investors in Europe (FEZ) are speculating that there could be some hint of a taper in the June meeting. There would be pressure on the ECB to act fast.
ECB board members' view
Bundesbank President Weidmann remains the most hawkish of all the ECB members. He has been pushing for policy normalization. Currently, the ECB runs a QE (quantitative easing) program. It buys bonds at a rate of 60 billion euro per month. Markets expect the program to end soon. A reduction in QE increases the demand for the euro and could help the currency appreciate against its peers. In a recent speech, ECB executive board member Coeure questioned the effectiveness of gradual normalization. New voices indicate the possibility of a taper discussion.
The timing of the announcements would be important because markets don't like to be surprised. In the next part of this series, we'll analyze the bond market's reaction to the FOMC's minutes.