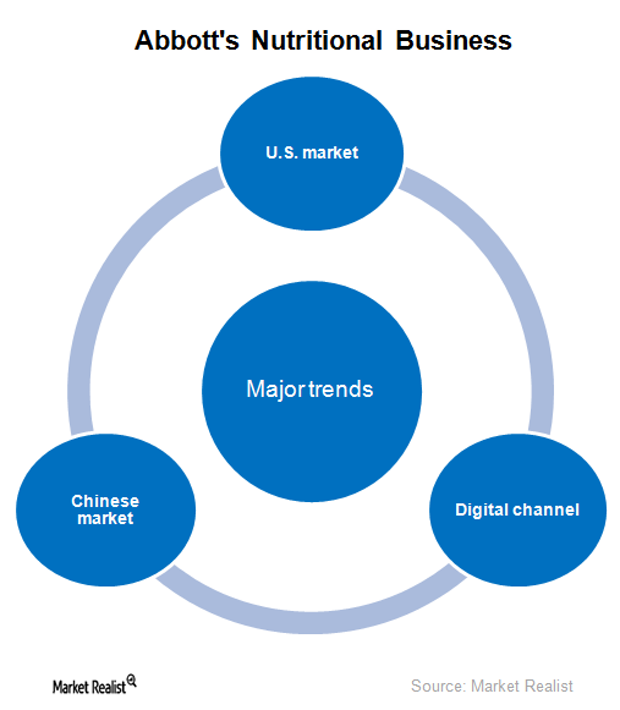 Emerging Markets Drive Abbott's Nutritional Business Growth
Abbott Laboratories' Nutritional segment
In 1Q17, Abbott Laboratories' (ABT) Nutritional segment reported revenue of nearly $1.6 billion, a year-over-year (or YoY) fall of ~1%. This fall can be attributed to the challenging conditions for the company's pediatric nutritional business in major emerging market China.
The company has projected low single-digit YoY revenue growth for its Nutritional segment in 2Q17 as well as 2017.
Article continues below advertisement
US market trends
Abbott Laboratories has managed to attain a dominant position in the US pediatric nutrition market due to its broad portfolio of innovative products.
Further, the rapid adoption of the Ensure brand across multiple international markets has enabled the company to maintain its global leadership in the adult nutrition market.
Chinese market trends
In response to impending changes in food safety regulations, which are expected to become effective in January 2018, there's been a significant oversupply in the Chinese infant formula market by competitors. This has resulted in price discounting, a trend that's expected to affect Abbott Laboratories' revenue in 2017. To know more about this problem, read Why Did the Nutrition Segment's Performance Fall?
Article continues below advertisement
However, in the long term, the changing regulatory framework in China may prove beneficial for Abbott Laboratories due to its robust supply chain, localized research and development (or R&D) operations, and diversified product portfolio suiting the preferences of both customers and distribution channels. Abbott Laboratories expects its nutritional business to grow YoY at a mid-single-digit rate starting in 2018.
If this projection proves to be correct, it could have a favorable impact on the share prices of Abbott Laboratories and the Vanguard Health Care ETF (VHT). Abbott Laboratories makes up ~2.3% of VHT's total portfolio holdings.
Digital channels
To spur demand for its nutritional products in China, Abbott has revamped its distribution network. The company has been shifting from the traditional trade channels, where it's historically been a dominant force, to digital sales channels. This change in strategy is expected to enable the company to compete effectively with other nutrition players such as Johnson & Johnson (JNJ), Nestlé (NSRGY), and Mead Johnson Nutrition (MJN).
In the next article, we'll discuss growth prospects for Abbott Laboratories' Diagnostics segment in greater detail.