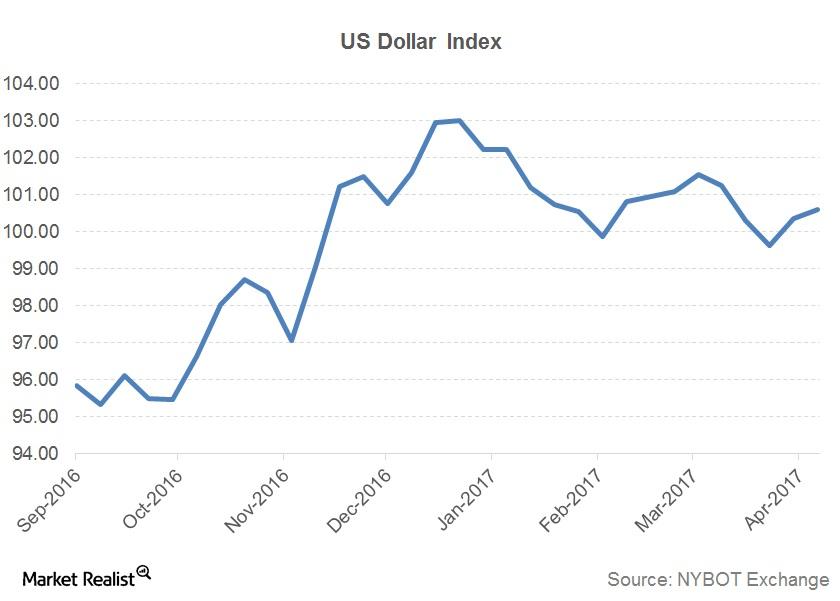 Will the US Dollar Rally?
The dollar is back at the starting line
After the election results were announced in the US, the Dollar Index (UUP) surged to levels above the 103 mark in anticipation of fiscal stimulus, tax breaks, improving economic conditions, and the possibility of rate hikes. Fed chair Janet Yellen along with her team have succeeded in delivering two rate hikes between November and now, and have hinted at two more rate hikes by the end of 2017.
The dollar index, however, has retraced all its gains since November. It started near the 99.00 level, clocking a high of 103.8 and again hitting a low of 98.7 after the AHCA failure. We can expect the US dollar to spring back above the 100 mark after any new developments on the fiscal front.
Article continues below advertisement
Article continues below advertisement
Will the dollar rally?
Key currencies that trade against the dollar are still susceptible to downward pressure:
The euro (EUO) is faced with political uncertainty.
The British pound (FXB) continues to grapple with Brexit.
The Japanese yen (YCS) has limited wiggle room with the current stretched status of its stimulus program.
In the emerging markets space, commodity-dependent economies (FXA) and high growth emerging market economies' currencies (CEW) are likely to outperform their peers. Overall, the odds remain in favor of the US dollar in the short-to-medium term due to the belief that US interest rates will rise faster than any other developed economies, increasing the spread between the interest rates of these countries and adding more value to the US dollar.