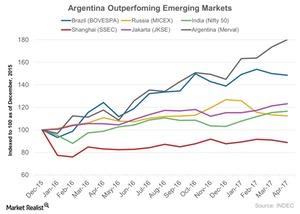 Will Argentina Be Upgraded to an Emerging Market in 2017?
Reforms in Argentina
The recent rally in Argentina's Merval Index (ARGT) reflects improved access to Argentina's markets with a host of reforms adopted by President Mauricio Macri. Investor optimism about Argentina's economic recovery in recent months and a stable exchange rate have boosted returns for investors. Let's look at the performance of Argentina's Merval Index compared to emerging market indexes.
Article continues below advertisement
Argentina's market performance
The Global X MSCI Argentina ETF (ARGT) rose about 28.0% in 2016, and the local Merval Index rose about 44.0% in 2016. The Buenos Aires Merval Index reached an all-time high, approaching 20,000 marks in March 2017.
As you can see in the above graph, the Merval Index has outperformed the emerging market indexes (EEM). The Brazil Index (EWZ) has followed the Argentina index with rises of about 38.0% in 2016. Russian (ERUS) and Indonesian (IDX) index posted rises of about 26.0% and 15.0%, respectively, in 2016.
Why is Argentina's index rising?
President Macri's efforts to revive the economy and improve investor confidence seem to have resulted in a remarkable performance in 1Q17. The Merval Index rose about 24.0% in 1Q17, again leading the emerging market indexes in 2017. Macri's efforts resulted in the removal of most capital controls, the scrapping of some export taxes, reaching a deal with its creditors.
On January 5, 2017, the government removed a rule that required foreign portfolio funds to remain in the country for at least 120 days. The previous rule was believed to impact investor sentiment and access to the country's financial assets. As a result, the MSCI Argentina Index saw trade volumes rise ~32.2% year-over-year as of January 2017.
Argentina seems to be one step closer to regaining its status as an emerging market participant with investor-friendly reforms. MSCI will likely consider the possibility of upgrading Argentina to emerging market funds in June 2017. The Argentine peso–denominated bonds were added to the JPMorgan (JPM) GBI-EM indexes (Government Bond Index-Emerging Markets) on February 28, 2017.
For more information on emerging markets, please check out Market Realist's Are Emerging Markets Poised to Perform Better in 2017?