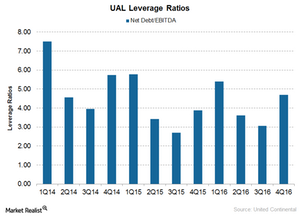 United Continental's Debt: What You Need to Know
By Ally Schmidt

Updated
Strong cash generation
For 2016 overall, United Continental (UAL) has generated $5.5 billion in operating cash flow and $1.9 billion in free cash flow. The cash flow on the balance sheet totaled $4.4 billion at the end of 4Q16, slightly lower than the $5 billion at the end of 2015.
Article continues below advertisement
High debt levels
United Continental's high debt has been a concern for investors for a long time now. It has also been rated below investment-grade for the same reason. However, 2016 has been a welcome change. United reduced its debt to $0.96 billion at the end of 2016 compared to 1.4 billion at the end of 2015.
UAL's leverage ratio or net debt to EBITDA[1. Earnings before interest, tax, depreciation, and amortization] has also improved. It reduced from 5.8x in 1Q15 to 5.4x in 1Q16 and 4.6x at the end of 4Q16. This level is, however, higher than major industry peers.
At the end of 4Q16, Delta Air Lines (DAL) had a net debt to EBITDA ratio of 2.8x, American Airlines (AAL) of 12.0 x, Alaska Air (ALK) of -0.56x, JetBlue Airways (JBLU) of 0.52x, Southwest Airlines (LUV) of 0.03x, and Allegiant Travel's at 3.2x.
Future plans
UAL's high debt is especially worrisome, given its history of bankruptcy (though it was before the merger with Continental Airlines). United Airlines filed for bankruptcy in December 2002 and emerged from it only after four years in February 2006. Continental Airlines also filed for bankruptcy in the 1980s.
United Airlines' bankruptcy was triggered by the September 9/11 attacks (two of the four planes hijacked belonged to United Airlines). Along with high fuel and labor costs, this bankruptcy led United Airlines to losses, rendering it incapable of servicing its debt.
However, this history only shows how difficult things can get in an industry downturn. Debt only amplifies that risk. Investors can gain exposure to United Continental by investing in XTF: Dynamic Large Cap Value Portfolio (PWV), which invests 1.4% of its portfolio in UAL.