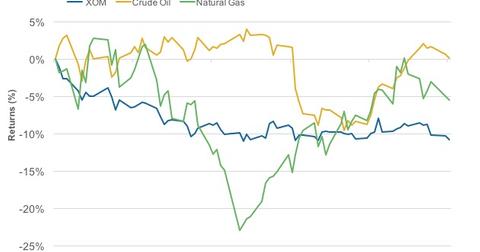 Inside ExxonMobil's Stock Performance before the 1Q17 Earnings
By Maitali Ramkumar

Updated
ExxonMobil's stock performance
In the previous part of this series, we considered ExxonMobil's (XOM) segment-wise outlook for 1Q17. Now, we'll examine ExxonMobil's stock performance before it releases its 1Q17 results.
ExxonMobil stock ended 2016 on a high note due to the rise in oil prices. Crude oil rose in December 2016 as OPEC (Organization of the Petroleum Exporting Countries) decided to cut production.
Article continues below advertisement
ExxonMobil's stock plunges in 2017
However, in 2017, oil prices became volatile. ExxonMobil's stock has slumped 10.8% YTD (year-to-date), and crude prices remained pressurized in the first quarter until oil prices rose in April. Overall, crude oil prices have risen only marginally (0.2%) YTD, while natural gas prices have dropped 5.5% YTD.
Oil prices increased in April due to the decrease in the global oil supply and geopolitical issues. In particular, oil prices rose due to Libya's supply interruption, political unrest in the Middle East due to Syria, and Russia's consideration of continuing production cuts. Crude oil prices have risen 4% so far in April.
Notably, the correlation coefficient of ExxonMobil's stock versus WTI for the past 12-month period stands at 0.49, which means that on an average, 49% of the movement in ExxonMobil's stock price can be explained by changes in WTI prices. However, the coefficient of ExxonMobil's stock as compared to natural gas stands at 0.01, representing a very weak correlation.
Peer performances
So far in 2017, PetroChina (PTR), ENI (E), and Suncor Energy (SU) have fallen 3.9%, 3.6%, and 6.9%, respectively, in the same period. By comparison, Statoil (STO) and Petrobras (PBR) have fallen even more sharply, by 9.9% and 14.5%, respectively, while the SPDR S&P 500 ETF (SPY), the broader market indicator, has surged by 3.8% YTD in 2017. Notably, SPY has ~7% exposure to energy sector stocks like XOM.
Now let's take a look at the analyst ratings.