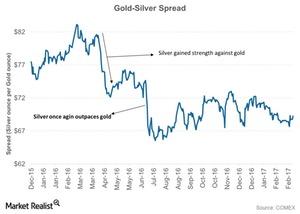 How the Gold-Silver Spread Moved in April 2017
By Meera Shawn

Updated
Gold-silver ratio
The reading of the precious metal market consists of its spread measures, which gives us the comparative performance of the three subordinate precious metals to gold. The gold-silver spread, or ratio, is one of the most looked for by investors.
On April 26, 2017, gold and silver rose 9.3% and 8.3%, respectively, YTD. As silver is frequently used as an industrial metal, the equity market rebound also positively impacts this precious metal. Although silver was leading gold during the first few months of 2017, gold has finally taken over.
Article continues below advertisement
The beginning of 2017 also saw some market turbulence, boosting the safe-haven appeal of precious metals. The gold-silver spread was 72.3 on April 26, 2017. This spread suggests that it took about 72 ounces of silver to buy a single ounce of gold on that date. The peak of the gold-silver spread was close to 85 ounces in late 2008.
Steadying ratio
The gold-silver spread has fallen drastically over the past year. On April 26, 2017, its RSI (relative strength index) was 81. The RSI level points to a likely fall in the ratio. A decline in the ratio indicates relative strength for silver.
The decrease in the ratio suggests that it could take fewer ounces of silver (SLV) to buy gold (IAU). Gold and silver were trading at $1,264.20 and $17.40 per ounce, respectively, on April 26.
Bull market, bear market
Notably, in a bull market for precious metals, silver usually outperforms gold, but the opposite tends to be the case in a bear market. When silver outperforms gold, the ratio falls. When gold outperforms silver, the ratio tends to rise.
Of course, mining stocks are also affected by precious metals, especially gold and silver. Goldcorp (GG), Royal Gold (RGLD), Sibanye Gold (SBGL), IamGold (IAG), and Harmony Gold (HMY) have seen losses along with these precious metals.