Can United Continental Improve Margins in 2017?
For 1Q17, analysts are now expecting United Continental's (UAL) EBITDA to fall 39% to $0.81 billion.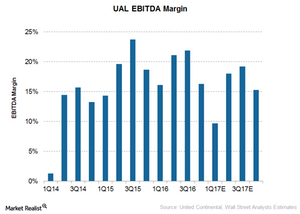 Analyst estimates
For 1Q17, analysts are now expecting United Continental's (UAL) EBITDA[1. Earnings before interest, tax, depreciation, and amortization] to fall 39% to $0.81 billion. This declining trend is expected to continue to the rest of the year. For 2Q17, EBITDA is expected to fall 11% to $1.7 billion, 9% in 3Q17 to ~2.0 billion, and 3% in 4Q17 to 1.4 billion. This prediction would result in a full-year drop of ~14% to $6 billion.
Article continues below advertisement
Article continues below advertisement
As revenue is expected to rise in 2017, falling EBITDA margins are the main cause of declining EBITDA. EBITDA margins are expected to fall to 9.7% in 1Q17 compared to 16.1% in 1Q16, to 18% in 2Q17 compared to 21.1% in 2Q16, to 19.2% in 3Q16 compared to 21.9% in 3Q16, and to 15.3% in 4Q17 compared to 16.3% in 4Q16.
Analysts are estimating full-year 2017 EBITDA margins to fall to 15.8%, leading to EBITDA of $6.0 billion compared to 19% EBITDA margin and $6.9 billion in EBITDA in 2016.
United justifies capacity increase
United Continental's CEO Oscar Munoz has tried to justify the company's sudden plans to raise capacity by maintaining that the capacity increase will be margin-accretive for UAL. According to Munoz, United will be adding capacity without buying new planes, making it a capital-efficient program. Also, it's expected to result in higher aircraft utilization and higher operational efficiency, which should result in reduced unit costs. Accordingly, United will also be reducing unit cost guidance in proportion to capacity growth.
Despite these plans, analysts expect UAL's EBITDA to decline for the coming year. Other airlines, like Delta Air Lines (DAL), American Airlines (AAL), and Alaska Air (ALK), are also expected to see declining margins in 2017.
But investors need not be disappointed yet. UAL does have plans to expand margins. For details, read the next part of this series. United Continental forms 1.3% holding of the First Trust Industrials/Producer Durables AlphaDex Fund (FXR).