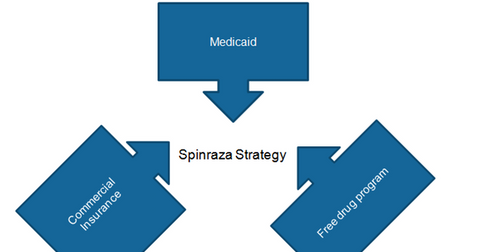 Biogen Has Developed a Robust Access Strategy for Spinraza
By Margaret Patrick

Apr. 28 2017, Updated 9:36 a.m. ET
Spinraza's performance in 1Q17
In 1Q17, Biogen's (BIIB) Spinraza earned revenues of $47.0 million, of which $46.0 million were from the US market and the remaining $1.0 million from international markets. The company has estimated revenues from US inventory buildup to be around $10.0 million in 1Q17.
If demand for Spinraza continues to be robust throughout 2017, it may have a positive impact on Biogen stock as well as the Vanguard Total Stock Market ETF (VTI). Biogen makes up about 0.26% of VTI's total portfolio holdings.
Article continues below advertisement
Robust access strategy
Like Alexion Pharmaceuticals' (ALXN) Soliris, Vertex Pharmaceuticals' (VRTX) Orkambi, and United Therapeutics' (UTHR) Unituxin, Spinraza is a rare disease drug targeting a very small segment of the total population. So to expand its reach and boost overall demand, Biogen has implemented a targeted payer access strategy.
Currently, 165 health plans in the United States, including 100 commercial plans and 65 Medicaid plans, provide coverage for Spinraza. Biogen estimates that of the total commercially insured population, 75.0% have some access to Spinraza, and 50.0% have a broad access to the drug. The Medicaid plans offering coverage for Spinraza span 35 US states.
Most SMA (spinal muscular atrophy) patients treated to date with Spinraza belong to type 1 SMA. Biogen is striving to improve payer access for type 2 and type 3 patients.
In cases where insurance plans don't cover Spinraza, patients have used the drug by opting for either a medical necessity request or an appeals process. Biogen estimates that around 25.0% of the drug dosed has been provided through free drug programs. These numbers highlight the success of Biogen's payer access strategy in 1Q17.
In the next part, we'll take a look at the marketing strategy for Spinraza.