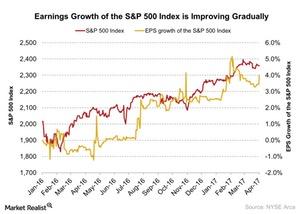 Jurrien Timmer's Take on What Will Drive Markets the Most in 2017
Jurrien Timmer's view on corporate earnings
When asked in a recent interview his thoughts about the short-term and medium-term investment story, Jurrien Timmer said that the main issue for the market other than geopolitical risks is its valuation, which is somewhat ahead of its required level.
He also said that the price-to-earnings multiples jumped nearly 2.5 points due to expectations of better earnings growth. Price-to-earnings multiples of the S&P 500 Index (SPY) are improving gradually. Earnings growth showed a recession between October 2014 and September 2016. Read Is the Earnings Recession Ending in the United States? to learn more. In the last quarter of 2016, earnings growth recovered.
Article continues below advertisement
Jurrien Timmer believes the proposed fiscal stimulus is the biggest story for the market (QQQ) (IWM) in the present scenario other than the recovery in earnings. The government's proposed fiscal stimulus in the form of higher infrastructure spending and defense spending could be another important factor for market participants.
Timmer thinks that global synchronized growth is the other factor that's driving investment sentiment. Europe is showing some improvement in its economic activity. China (FXI) (YINN) and the US are also showing some improvements. This synchronized growth is pushing investors' sentiment up.
In the next part of this series, we'll look at why Jurrien Timmer is bullish on Europe.