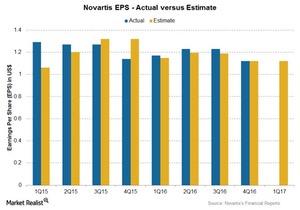 Analyst Estimates for Novartis's 1Q17 Earnings
A look at Novartis's earnings
Novartis (NVS) is one of the largest pharmaceutical company by revenue, with headquarters in Basel, Switzerland. The company specializes in research, development, manufacturing, and marketing of a broad range of healthcare products.
Novartis is set to release its 1Q17 earnings on April 25, 2017. Analysts estimate its 1Q17 EPS (earnings per share) at $1.12 with revenues of ~$11.7 billion.
Article continues below advertisement
Article continues below advertisement
1Q17 revenue estimates
In March 2015, Novartis acquired GlaxoSmithKline's (GSK) oncology business and divested its Vaccines and Consumer Healthcare divisions to GlaxoSmithKline. Considering the adjustments for its divested businesses, analysts estimate that revenues for 1Q17 will rise marginally by 0.50% to ~$11.7 billion compared to $11.6 billion in 1Q16.
The major revenue drivers are Pharmaceuticals (now Innovative Medicines) and Sandoz, its generic pharmaceutical business. However, Alcon, its eye care business, is expected to have lower sales due to competition in surgical care and contact lens products.
Profitability estimates
Analysts' estimates show a gross profit margin of 72.5% for 1Q17, which is a 7.0% rise compared to 1Q16. With lower R&D (research and development) expenses but higher SG&A (selling, general, and administrative) expenses as a percentage of total revenues, its EBITDA (earnings before interest, tax, depreciation, and amortization) margin is expected to fall to 29.2% in 1Q17 compared to 39.9% in 1Q16. The net adjusted income is expected to fall to ~$2.7 billion in 1Q17.
To divest the risk, you can consider ETFs such as the PowerShares International Dividend Achievers ETF (PID), which holds 1.1% of its total assets in Novartis, 2.4% in GlaxoSmithKline (GSK), 1.5% in Sanofi (SNY), and 1.1% in Teva Pharmaceutical Industries (TEVA).