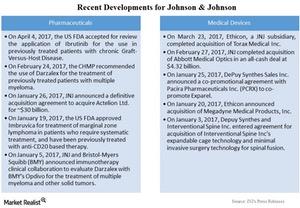 A Look at Johnson & Johnson's Major Developments in 1Q17
By Mike Benson

Updated
Major developments
As we discussed earlier, Johnson & Johnson's (JNJ) 1Q17 segment-by-segment performance was positive across all of its segments. 
Now, let's take a look at some of the major developments for JNJ during 1Q17.
Article continues below advertisement
Pharmaceuticals segment
On April 4, 2017, the FDA accepted for review the application of ibrutinib for treating previously treated patients with chronic graft versus host disease.
On February 24, 2017, the European Medicines Agency's Committee for Medicinal Products for Human Use (or CHMP) recommended the use of Darzalex for the treatment of previously treated patients with multiple myeloma.
On January 26, 2017, JNJ announced a definitive acquisition agreement to acquire Actelion. The deal size is ~$30 billion.
On January 19, 2017, the FDA approved Imbruvica for the treatment of marginal zone lymphoma in patients who require systematic treatment and have been previously treated with anti-CD20–based therapy.
On January 5, 2017, JNJ and Bristol-Myers Squibb (BMY) announced an immunotherapy clinical collaboration to evaluate the use of Darzalex with BMY's Opdivo for treating multiple myeloma and other solid tumors.
Medical Devices segment
On March 23, 2017, Ethicon, a JNJ subsidiary, completed its acquisition of Torax Medical.
On February 27, 2017, JNJ completed its acquisition of Abbott Medical Optics, a subsidiary of Abbott Laboratories (ABT), in an all-cash deal for $4.3 billion.
On January 25, 2017, DePuy Synthes Sales, a subsidiary of JNJ, announced a co-promotional agreement with Pacira Pharmaceuticals (PCRX) to promote Exparel. Exparel is a long-lasting, non-opioid local analgesic used during orthopedic surgery.
On January 20, 2017, Ethicon announced its acquisition of Megadyne Medical Products. The deal brings Megadyne's electrosurgical tools portfolio to Ethicon's intelligent energy solutions for stronger precision and efficiency.
On January 3, 2017, DePuy Synthes and Interventional Spine entered into an agreement for the acquisition of Interventional Spine's expandable cage technology and minimal invasive surgery technology for spinal fusion.
To divest risk, investors can consider ETFs such as the Vanguard Healthcare ETF (VHT), which holds 10.2% of its portfolio in Johnson & Johnson.