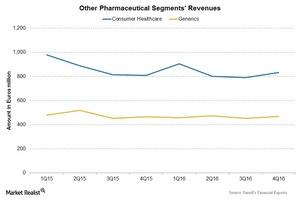 Why Sanofi's Consumer Healthcare and Generics Segment Still Matters
Consumer Healthcare
Sanofi's (SNY) Consumer Healthcare segment offers products like Allegra, Doliprane, and Nasacort. At constant exchange rates, the segment reported a 1.6% YoY (year-over-year) fall in revenues at 3.33 billion euros (about $3.56 billion) in 2016.
The negative impact of Venezuela impacted these revenues negatively. Excluding that impact, however, the segment's revenues rose more than 1.4%, mainly due to performance in US markets, followed by Australia, Brazil, Mexico, and Argentina.
Article continues below advertisement
Article continues below advertisement
Allegra
Allegra, an antihistamine drug, is used to treat indoor and outdoor allergies and is one of the few non-drowsy anti-allergic drugs on the market. Allegra contributed ~12.5% of the segment's total revenues at 417 million euros (about $445.6 million) during 2016—a 0.2% YoY fall at constant exchange rates.
Allegra competes with Bayer's Claritin, and Johnson & Johnson's (JNJ) Zyrtec, and Benadryl.
Nasacort
Nasacort is a nasal spray used for relief in nasal allergies. Nasacort reported a 10.7% YoY fall in its 2016 revenues to 108 million euros ($115.4 million), mainly driven by falling sales in US markets.
Nasacort competes with GlaxoSmithKline's (GSK) Flonase, Novartis's (NVS) Otrivin, and Bayer's Afrin. A few other nasal sprays include Meda Pharmaceuticals's Dymista and Astepro, and Boehringer Ingelheim's Atrovent.
Article continues below advertisement
Other products
Doliprane, an analgesic, reported a ~2.6% YoY rise in its revenues to 309 million euros (about $330.2 million) in 2016. Enterogermina reported a ~2.5% YoY rise in its 2016 revenues at 159 million euros (about $169.9 million). Other products include Essentiale, Maalox, Lactacyd, and others.
Generics franchise
The generics franchise contributes much less toward overall revenues for Sanofi (SNY), and it has reported a growth of 0.7% in its revenues during 2016. The 2016 revenues came in at 1.86 million euros (about 1.99 million). Revenues were driven by overall sales in the US and the generic version of Plavix in Japan. Sanofi and Nichi-Iko Pharmaceuticals launched an authorized generic version of Plavix in 2015 in Japan.
Notably, to divest risk, investors can consider ETFs like the First Trust Value Line Dividend ETF (FVD), which has 0.5% of its total assets in Sanofi.
Continue to the next and final part of this series for a key look at Sanofi's Human Vaccine's segment.