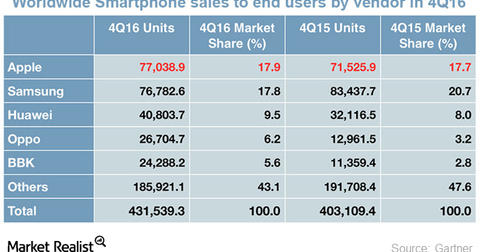 Where Apple Stands in the Global Smartphone Market
By Adam Rogers

Updated
Apple reclaims top spot from Samsung
According to market research firm Gartner, Apple (AAPL) has reclaimed the top spot from Samsung (SSNLF) after eight quarters. Apple now leads the worldwide smartphone segment with a 17.9% share and sales of ~77.0 million units.
In 4Q15, Apple had a market share of 17.7%. Samsung's market share has fallen from 20.7% in 4Q15 to 17.8% in 4Q16, primarily driven by the Galaxy Note 7 recall.
Apple (AAPL) reported that iPhone revenues rose 5.0% YoY (year-over-year) from $51.6 billion in fiscal 1Q16 to $54.4 billion in fiscal 1Q17. During the same timeframe, iPhone unit shipments rose 5.0% YoY from 74.8 million units in fiscal 1Q16 to 78.3 million units in fiscal 1Q17.
Chinese (FXI) smartphone manufactures such as Huawei, Oppo, and BBK also capitalized on Samsung's setbacks and gained considerable market share. Huawei's market share rose from 8% in 4Q15 to 9.5% in 4Q16. Oppo's market share almost doubled from 3.2% to 6.2% during the same period.
Article continues below advertisement
Over 430 million smartphones sold in 4Q16
As seen in the chart above, Gartner estimates total smartphone sales to be 431 million units in 4Q16, a rise of 7% YoY. In fiscal 2016, smartphone shipments rose 5% YoY to 1.5 billion units.
The Android (GOOG) (GOOGL) OS accounted for 81.7% of the smartphone market in 4Q16, up from 80.7% in 4Q15. Apple's iOS accounted for 17.9% of the market in 4Q16.
The iPhone generated almost 70.0% of Apple's revenues in fiscal 1Q17, so any rise in revenues in this segment could significantly impact Apple's overall revenues.