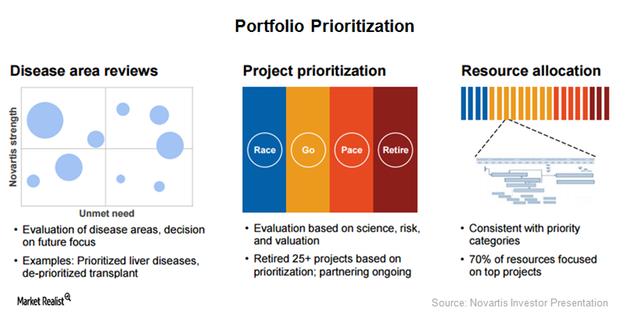 Novartis Focuses on Portfolio Prioritization to Boost Profitability
Efficient and agile research organization
To ensure long-term relevance as well as quick adaptability to changing market needs, Novartis (NVS) is focusing on five major initiatives in 2017:
ensuring appropriate resource allocation through portfolio prioritization
keeping track of performance
introducing operational efficiencies
leveraging innovative technology
training human resources
Novartis's robust research and development (or R&D) strategy enables it to pose solid competition to peers such as Merck (MRK), Pfizer (PFE), and Bristol-Myers Squibb (BMY). To learn more about Novartis's R&D strategy, please refer to Targeted Research and Development May Boost Novartis's Profits.
If Novartis manages to effectively implement these priorities, it could have a positive impact on the company's stock and on the Vanguard Total International Stock ETF (VXUS). Novartis makes up about 0.77% of VXUS's total portfolio holdings.
Article continues below advertisement
Portfolio prioritization
The above diagram shows how Novartis decides on the disease areas it wants to focus its resources on. The process starts with multiple scientists, commercial leaders, and research leaders mapping key areas of unmet demand and Novartis's core capabilities on an annual basis. This exercise helped the company to focus its resources on opportunities in the liver disease segment, and it also helped Novartis deprioritize low growth areas such as transplantation.
Once a promising area is identified, the research project is evaluated based on science, risk, and valuation. It's then categorized as a "race project," a "go project," a "pace project," or a "retire project." The priority of the project in Novartis's research pipeline is in descending order from "race status" to "retire status."
Finally, based on prioritization, Novartis will determine the appropriate level of resources to be allocated for a particular project.
In the next article, we'll explore Novartis's performance measurement process for its R&D program in greater detail.