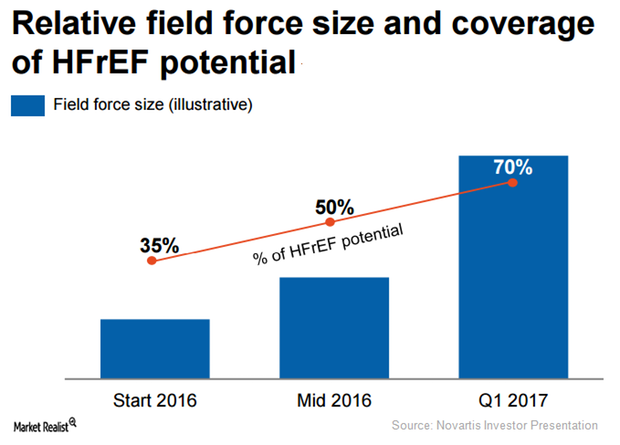 How Novartis Is Aiming to Increase Entresto Sales in 2017
Growth drivers
In 2017, Novartis (NVS) expects its heart failure drug, Entresto, to earn revenues in excess of $500 million. The expected higher sales are mainly a result of improving access both for Medicare as well as the commercially covered patient population. While Entresto has been strongly recommended in treatment guidelines for heart failure by leading cardiovascular bodies in the US and Europe, Novartis believes that it will take some time to change prescriber behavior. However, these developments will nevertheless increase overall physician and patient confidence, which could be a major growth driver for Entresto in the future.
If this projection proves correct, it could significantly add to Novartis's revenues. Increased revenues could boost the company's stock as well as the Vanguard Total International Stock ETF (VXUS). Novartis makes up about 0.76% of VXUS's total portfolio holdings.
Article continues below advertisement
Article continues below advertisement
Sales force expansion
Novartis completed its first major sales force expansion for promoting Entresto to cardiologists and primary care physicians (or PCPs) in the US market in April 2016. From September 2016 to February 2017, the company has been aggressively promoting Entresto to PCPs.
During the commercial launch of Entresto in July 2015, Novartis's sales force had already reached out to 35% of the eligible patients suffering from heart failure with reduced ejection fraction (or HFrEF) in the US. By September 2016, the reach had increased to 50% of the market potential. Novartis has estimated that it had covered around 70% of the eligible US patient pool for Entresto by mid-February 2017.
With a robust sales force promoting Entresto, Novartis will present solid competition to other heart failure players such as Merck (MRK), Pfizer (PFE), and Amgen (AMGN).
In the next article, we'll discuss anticipated volume growth trends for Entresto in 2017.