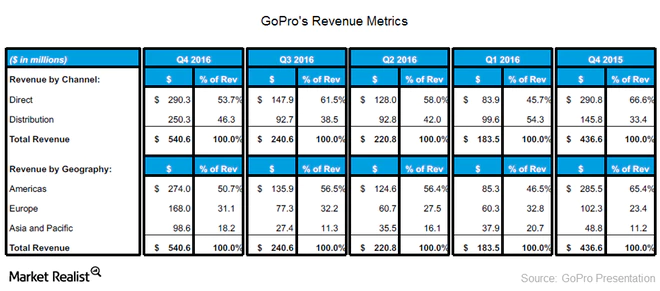 Why GoPro Is So Optimistic about Asia Sales
A record quarter in EMEA and Asia-Pacific
At the end of 3Q16, GoPro had not yet localized its software, cameras, and languages, although it has started expanding on a global scale. GoPro believes it can further grow sales in developing economies such as India and China by focusing on online sales. In 4Q16, GoPro's unit sell-through rose 61% YoY in China. (Unit sell-through refers the percentage of units shipped that are actually sold.)
However, purchasing power in these countries is still very low compared to developed markets such as the United States (SPY) and Europe (EFA).
Article continues below advertisement
In 4Q16, GoPro (GPRO) reported record revenues in its EMEA (Europe, Middle East, and Africa) and Asia-Pacific regions, and the company expects these geographies to drive future revenues as well. While in the US, GoPro has a 27% share in the digital imaging market, in EMEA, its market share stands at 12%.
A recent GfK report stated that GoPro's unit share in Japan has almost tripled to 3% in the digital imaging segment.
Continued leadership in North America and Europe
According to NPD Group's retail tracking service, GoPro (GPRO) accounted for three out of the top five products—including the top two positions—on a unit basis in the US Digital Imaging Product segment for 4Q16. NPD noted that GoPro's 4Q16 unit share in the US rose 4% YoY (year-over-year) to 26.7%.
Now let's take a closer look at Karma.