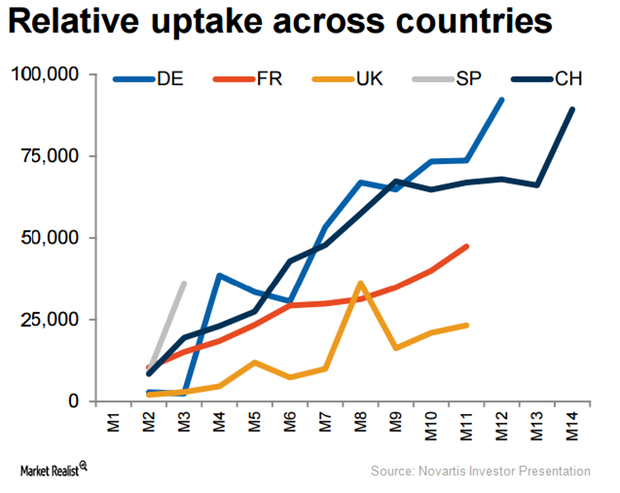 Entresto Could See Strong Uptake in European Markets in 2017
European markets
Novartis (NVS) has managed to secure reimbursement in 17 countries in Europe, covering 70% of eligible patients suffering from heart failure with reduced ejection fraction (or HFrEF). The company aims to reach 80% of this patient pool by the end of 2017. Novartis aims to expand coverage for Entresto in 33 countries in Europe. Entresto will thus enable Novartis to become a major competitor among peers such as Merck (MRK), Pfizer (PFE), and Amgen (AMGN).
Article continues below advertisement
Article continues below advertisement
Strong uptake
The above diagram shows the relative uptake of Entresto in key European markets after the drug's launch. The drug secured first reimbursement in Germany in 1Q16. However, Novartis is still involved in pricing-related discussions for the drug. The company expects the arbitration board to help determine appropriate drug prices in the country at the end of 1Q17.
Entresto managed to secure reimbursement in France under Article 48 of the 2014 Social Security Financing Act in 1Q16. The act restricts drug reimbursement only when Entresto is dispensed in hospitals. Since this reimbursement has significantly affected market access, Novartis is awaiting general reimbursement for the drug.
In 2Q16, Entresto received its first reimbursement in the United Kingdom. The National Institute for Health and Care Excellence (or NICE) has also given positive recommendations to Entresto, which has been one of the key factors driving the uptake of the drug in European markets.
Entresto secured its first reimbursement in Spain in 2Q16. Further, Novartis expects reimbursement for Entresto after its launch in Italy in 1Q17.
If Novartis manages to improve market access for Entresto in European markets in 2017, it could have a positive impact on share prices of the company as well as those of the Vanguard FTSE Europe ETF (VGK). Novartis makes up about 1.5% of VGK's total portfolio holdings.
In the next article, we'll discuss Novartis's Alcon business.