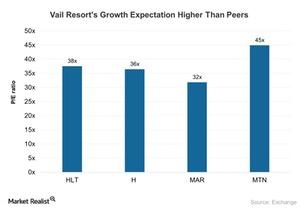 Vail Resorts: Exceptional Takes Time, According to Baron
Vail Resort's valuation
Baron Capital began investing in Vail Resorts (MTN) in 1997, and it owns a ~15%–20% stake in the company. According to Ron Baron, this investment has returned ~50%–75% on invested capital.
The stock was trading at $180 per share on February 20, 2017. Let's look Vail's valuation compared to those of its peers as of the same date.
Article continues below advertisement
Article continues below advertisement
Vail exhibits growth across all segments
According to Baron, Vail's business proposition is unique and difficult to compete with. He states, "It's difficult to build a new mountain, and they've built up 30 years of cachet." As we can see in the above chart, the PE (price-to-earnings) ratios of Hilton (HLT), Hyatt (H), Marriott (MAR), and Vail Resorts are 37.52x, 36.45x, 31.81x, and 44.89x, respectively. Vail has a higher PE compared to its peers, as investors expect higher growth from Vail.
Currently, the company is making more cash from its ski business than from its other businesses, including hotels, airlines, and other ancillary businesses. The average visitor spends ~$300 per day at Vail Resorts, of which $30 comes from skiing. However, the company has raised this cost to $100 per day, which has increased its revenue before the ski season even starts, as stated by Baron. The company also witnessed growth in its number of visitors to ~10 million skiers in 2016.
Economic growth
The company reported phenomenal growth of ~24% in pass unit sales and 29% in terms revenue from pass sales as of July 31, 2016, according to its 2016 Annual Report. Robert Katz, the CEO and president of Vail Resorts, praised the company's marketing efforts, saying, "We are extremely pleased with our season pass sales to date."
The company's season pass revenue rose 21% in 2016. The resort's revenue, including mountain and lodging operations, had risen 16.2% as of July 31, 2016.
Some of the ETFs holding Vail Resorts in their portfolios include the Vanguard Small-Cap Growth ETF (VBK), the Vanguard Small-Cap ETF (VB), and the iShares Russell 1000 Growth ETF (IWF).
For more information on the global trade outlook for 2017, read the Global Economy in 2016 and Expectations for 2017.