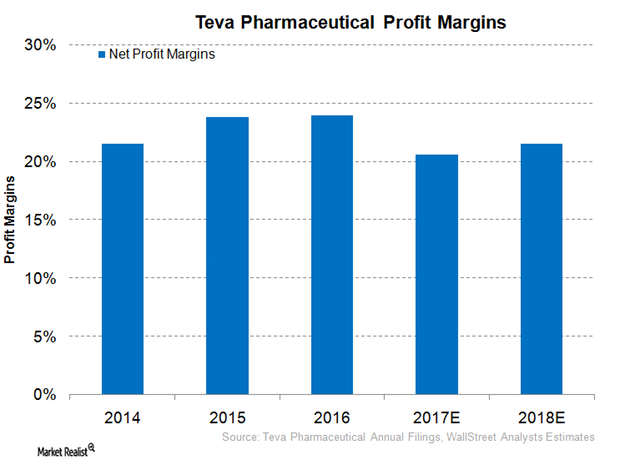 Teva Is Expected to See a Fall in Its Profit Margins in 2017
Drop in profit margins
Teva Pharmaceutical (TEVA) expects its 2017 non-generally accepted accounting principles (non-GAAP) earnings per share (or EPS) to fall in the range of $4.9–$5.3.
However, if generic competition for Copaxone 40mg/ml is introduced in February 2017, it will likely reduce the company's EPS estimate for 2017 by $0.75–$0.95.
In 2016, Teva Pharmaceutical's EPS were adversely affected by $900 million in goodwill impairment charges arising from fraud related to its acquisition of Representaciones e Investigaciones Médicas (or Rimsa), a Mexican pharmaceutical company. To know more about challenges in the Rimsa acquisition, read Teva Pharmaceutical Faces Multiple Challenges in 2016.
If Teva Pharmaceutical continues to face problems arising from its Rimsa acquisition in 2017, its share price could see a negative impact, along with the share price of the First Trust Value Line Dividend ETF (FVD). Teva Pharmaceutical makes up ~0.54% of FVD's total portfolio holdings.
Article continues below advertisement
Profit margin projections
Wall Street analysts have projected that Teva Pharmaceutical's net profit margin will be ~20.6% in 2017, ~330 basis points lower than what it reported in 2016.
While impending generic competition for Copaxone 40mg/ml remains a major challenge for Teva Pharmaceutical, the company believes that payers may be reluctant to switch patients, as ~70% of them may instead opt for costlier oral multiple sclerosis drugs from Biogen (BIIB), Novartis (NVS), or Sanofi (SNY).
Since Teva Pharmaceutical also has plans to appeal the judgment given by the District Court of Delaware related to the invalidity of four of the five Orange Book patents held by Copaxone 40mg/ml, payers may be reluctant to switch patients from Copaxone to generics introduced through at-risk launches. If Teva wins in the higher court, payers will again have to switch patients back to Copaxone 40mg/ml.