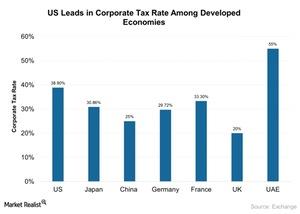 Inside the Market's View of Corporate Tax Cuts
Are markets upbeat on potential tax reforms?
The markets (SPY) (IVV) surged last week with the announcement of a phenomenal update on the corporate tax cut. The S&P and Nasdaq Comp gained ~2% in the week ended February 10, 2017. The Trump administration's proposed tax cut is likely to boost the economy, though analysts have mixed outlooks on Trump's so-called "border tax adjustment."
Trump plans to lower the corporate tax rate to 15% to bring the US tax system in line with its allies and competition around the world. According to OECD (Organisation for Economic Co-operation and Development) reports, countries have collected nearly 33.7% of their tax revenues through taxes on income and profits. It's also an important source of revenue for its member counties to fund the government spending.
Article continues below advertisement
High corporate tax rate
The US has the highest corporate tax rate in the developed world—a tax rate that reaches back to long before the Obama administration. The new administration has been trying to repatriate the $2.6 trillion in overseas profit that US companies hold abroad to avoid tax.
Tax cuts at domestic level would (theoretically) encourage companies to repatriate the profit locked abroad to avoid taxes. Many believe that Trump's proposal to slash the US corporate tax rate could take years to implement. Many people also believe that tax cut plan would hurt the US trade deficit.
Infrastructure projects
Trump claims that he plans to use the tax code overhaul to fund infrastructure projects. According to Ed Hyman, the Trump's aggressive attempts to win every battle may only be seen as successful over time. Still, Hyman's firm is giving an 80% probability on the chances of a corporate tax cut in the near term in 2017.
In any case, top equity strategists are bullish on stocks in 2017 due to the expectation of tax cuts at both personal and corporate levels. The big corporations expected to repatriate profits include Apple (AAPL), Microsoft (MSFT), General Electric (GE), and International Business Machines (IBM).