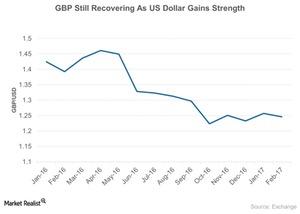 How Currencies Have Reacted since the Brexit Decision
Sluggish pound performance
The British pound (FXB) (GBB) is trading at 31-year low of 1.25 as of February 2017, its lowest level since 1985. The currency fell ~11% in 2016.
After Prime Minister Theresa May's Brexit speech to trigger Article 50 by the end of March 2017, the pound plunged to its 31-year low against the US dollar.
Article continues below advertisement
Reason for the fall
Analysts believed that the outward fund flow from the pound would continue until the end of 2016. The reason for the fall in the pound was likely global concern over the fall in demand for British goods, as they would no longer be readily accessible to European markets without tariffs and restrictions.
The United Kingdom would also no longer have easy access to international markets through the European Union, leading to potential falls in its exports.
Effects of the pound's fall
The outflow of capital due to the fall in the pound is expected to have a significant impact on economic activity in the United Kingdom. The UK economy is expected to contract as capital is withdrawn from the market, leading to a fall in the value of its currency.
Funds are expected to flow from the pound to the US dollar as the United Kingdom exits the European Union. The US dollar rose more than 10% against the pound in 2016. The Japanese yen (YCS) (FXY) also rallied, rising ~7% against the pound, and the Swiss franc (FXF) rose more than 10% against the pound in the year.
The stronger US dollar is making US products expensive in international markets, impacting companies such as Apple (AAPL), Deere & Company (DE), Caterpillar (CAT), and Nike (NKE).
However, since the beginning of 2017, the pound has stabilized, rising ~1% as of mid-February. The reason for this stabilization could be the National Bank of England's monetary easing and the recent upbeat economic data from the United Kingdom. Since October 2016, the pound has been hovering around 1.30.
Let's take a look at the impacts of the Brexit result on the bond market and gold in our next article.