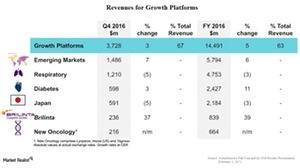 Chart in Focus: Performance of AstraZeneca's Growth Platforms in 2016
By Mike Benson

Updated
The growth platforms
AstraZeneca (AZN) has classified several products and regions as a part of its growth platforms—Respiratory and Diabetes products, Brilinta/Brilique, and the regional sales from emerging markets and Japan.
The company also added a new Oncology franchise for the first time to the growth platforms, due to its new oncology products, Tagrisso and Lynparza.
As we discussed earlier, these growth platforms contributed nearly 63% to AstraZeneca's total revenues in 2016. In order to avoid duplication on a product-specific and regional basis, the total product sales are adjusted for these growth platforms.
Article continues below advertisement
Performance of growth platforms in fiscal 2016
AstraZeneca's (AZN) Respiratory Product sales fell 3% at constant exchange rates to ~$4.8 billion during fiscal 2016. This includes the blockbuster drugs Symbicort and Pulmicort, as well as new products such as Tudorza, Daliresp, and Duaklir. For 4Q16, Respiratory Product sales fell ~5% to ~$1.2 billion.
Brilinta/Brilique, classified under the Cardiovascular and Metabolic Disease (or CVMD) segment of AstraZeneca, is used to prevent blood clots in the heart and blood vessels. Brilinta/Brilique's revenues rose 39% at constant exchange rates to $839 million during 2016, while its revenues rose 37% to $236 million during 4Q16.
The Diabetes franchise includes drugs such as Onglyza, Bydureon, Byetta and Farxiga. This franchise reported 11% growth to ~$2.4 billion in 2016 at constant exchange rates. For 4Q16, the franchise's revenues rose 3% to $598 million. Because this franchise is classified under the CVMD segment, we'll discuss the details about its key products later in this series.
Emerging markets such as China, Brazil, and Russia have reported growth driven by AstraZeneca's established products. Emerging markets reported a 6% increase at constant exchange rates to ~$5.8 billion in 2016 and 7% growth in revenues to ~$1.5 billion in 4Q16.
The revenues from Japan fell 3% to ~$2.2 billion in 2016, and they fell 5% to $591 million during 4Q16.
The new products in the Oncology segment, including Tagrisso for the treatment of lung cancer and Lynparza for the treatment of ovarian cancer, are classified as growth platforms. New oncology products reported revenues of $664 million for 2016 and $216 million for 4Q16.
For broad-based exposure to the industry, investors can consider the iShares S&P Global 100 ETF (IOO) which holds ~0.7% of its assets in AstraZeneca, ~2% in Pfizer (PFE), 1.8% in Merck & Co. (MRK), and 3.1% in Johnson & Johnson (JNJ).