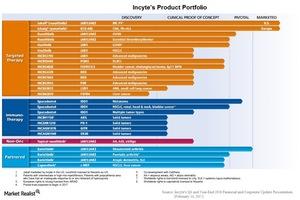 A Look at Incyte's Product Portfolio
Incyte's product portfolio
Incyte's (INCY) product portfolio includes drugs for oncology as well as non-oncology. For oncology, its product portfolio includes targeted therapies as well as immunotherapies. However, products marketed by Incyte only include Jakafi and Iclusig. Another product, baricitinib, is under pivotal studies for the treatment of rheumatoid arthritis.
The above chart shows the present status of drugs under development by Incyte. As we saw earlier, Jakafi is licensed to Novartis (NVS) for marketing outside the United States under the name Jakavi. Worldwide rights for the drug capmatinib are licensed to Novartis, while worldwide rights for the drug baricitinib are licensed to Eli Lilly (LLY).
Article continues below advertisement
Article continues below advertisement
Oncology products
Incyte has classified its oncology product portfolio into the following two categories based on the method of treatment used for the disease:
targeted anti-cancer therapies
immuno-oncology or immunotherapies
Targeted anti-cancer therapies include drugs that target cancer cells but cause less damage to normal cells. Jakafi (ruxolitinib) and capmatinib are targeted-therapy drugs in Incyte's portfolio.
Immunotherapies target a patient's immune system to fight cancer cells. Epacadostat is an immunotherapy drug in Incyte's portfolio.
Incyte added Iclusig to its portfolio after acquiring rights from Ariad Pharmaceuticals (ARIA) in June 2016. Iclusig (ponatinib) is approved for the treatment of chronic myeloid leukemia as well as Philadelphia chromosome-positive acute lymphoblastic leukemia for patients who cannot be treated with other tyrosine kinase inhibitors.
On December 21, 2016, Incyte announced a global strategic research collaboration with Merus (MRUS). The collaboration involves the discovery and development of bispecific antibodies based on Merus's Biclonics technology for the expansion of Incyte's large molecule portfolio.
Non-oncology 
Non-oncology drugs include baricitinib and ruxolitinib. Baricitinib is licensed to Eli Lilly (LLY).
The European Commission approved a marketing authorization application for Olumiant (baricitinib), a drug for the treatment of rheumatoid arthritis, on February 13, 2017. Incyte will receive milestone payments of $65.0 million from Eli Lilly for baricitinib, which it will report in 1Q17.
Incyte also announced an agreement with Eli Lilly for the development and commercialization of ruxolitinib for the treatment of graft-versus-host disease in the United States. It entered into another agreement with Novartis for the development and commercialization of ruxolitinib outside the United States. The registration process for ruxolitinib in US markets was initiated in the second half of 2016.
To divest the risk, you can consider ETFs such as the PowerShares Dynamic Biotech & Genome ETF (PBE), which holds ~5.9% of its total assets in Incyte.