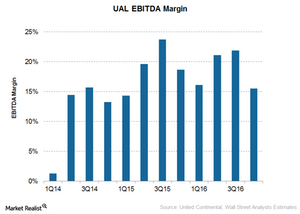 Will United Continental's Margins Improve in 2017?
Analyst estimates
For 4Q16, analysts are expecting United Continental's (UAL) EBITDA to fall 26% to $1.4 billion. This will result in a full-year drop of ~16% to $6.8 billion. While revenue decline is definitely contributing to this EBITDA decline, margins are also expected to fall. EBITDA margins are expected to fall 15.5% in 4Q16 as compared to 20.6% in 4Q15. For the full year 2016, analysts are expecting the EBITDA margin to fall 18.5% as compared to 20% in 2015.
The decline is expected to continue in 2017. Analysts are estimating 2017 EBITDA margins to fall 17%, leading to EBITDA of $5.6 billion.
Article continues below advertisement
Rising fuel costs
Fuel expenses fell 36% in 2015, which helped UAL to improve margins. For 2016 too, fuel prices provided some relief. Fuel cost per gallon is expected to fall to $1.40–$1.45 in 2016 as compared to $2 in 2015.
However, following the recent OPEC announcement of production cuts, oil has already recovered to $50 per barrel, which is expected to adversely impact margins in 2017 too.
Other airlines like Delta Air Lines (DAL), American Airlines (AAL), and Alaska Air (ALK) are also expected to witness contracting margins in 2017.
Revised pilot wages add to costs
Airline management has been at war with pilots over contract negotiations for some time now. 2016 saw an end to that. All major airlines like United Continental, Delta Air Lines (DAL), and Southwest Airlines (LUV) have renegotiated their pilot contracts to include decent pay hikes for pilots. Only American Airlines (AAL) has been absent from this trend. Labor contracts were changed at the time of its merger with US Airways, which led to reduced margins.
However, investors need not be disappointed yet. United Continental does have plans to expand margins. For details, read our next article. UAL forms 1.4% of the PowerShares Dynamic Large Cap Value Portfolio (PWV).